As this week's installment of EATING AUTHORS goes live, I should be on a plane flying home from a long and amazing week at Rio Hondo, a writers' retreat which this year was held at an elevation of some 8,400 feet in Angel Fire, NM. Please believe me when I tell you I am eager to get back to sea level.
Meanwhile, because it's a Monday, I asked Micah Joel to drop by and share a few words about his most memorable meal.
There's a good chance you've not encountered any of Micah's work yet. Over the past five years or so he's sold about a dozen stories. Last month he self-published his first novel, Broken Tablet, book one in a proposed series, the Ixion Revolution. Described as "Bronze Age Time Travel," he had me at the elevator pitch: a Silicon Valley engineer gets trapped in the ancient Sumerian city of Ur. Seriously, what more do you need?

LMS: Welcome, Micah. Let's cut right to it; what's your most memorable meal?
MJ: There's a world of difference between "best" and "most memorable." As I wander through the mind palace searching for food memories, the one that stands out the most is about as far as you can get from fine dining.
It was a McDonald's bacon cheeseburger. In fairness, it had exactly the right amount of ketchup and mustard, and no onions or pickles by request. I can still imagine the taste and crunch of the perfectly-crispy bacon. It was one well-formed cheeseburger.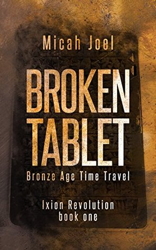 I ate in my car, sitting there as broke as college students with neither trust funds nor scholarships can get. But it was my car. As I relished every bite, I mentally composed a letter of appreciation that I imagined sending to corporate. I was free and happy.
Despite good grades, not much of high school agreed with me, other than the electronics lab (where I spent copious amounts of time). But things were different in college. I was attending classes here because I wanted to, and I was surrounded by others at least my equal on the geekiness index.
So there's this moment in life when the full implication of independence comes crashing down on you. That moment crystallizes in your mind and you'll never forget it. Even if you're eating McDonald's at the time.

Thanks, Micah. And yes, there is nothing quite like that first bite of the cheeseburger of enlightenment!
Next Monday: Another author and another meal!
Tags: Eating Authors