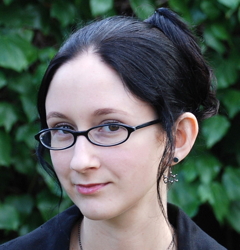 Welcome to the first installment of EATING AUTHORS here in 2016. I'm expecting great things for this new year. I'm very pleased to start off here with this week's guest, Megan E. O'Keefe, whose first novel first novel, Steal the Sky (book one of The Scorched Continent series) will be released tomorrow. This book has been described as having witty characters, airships, and explosions, and if that doesn't get your attention, then you're obviously still recovering from overindulgence on New Year's Eve.
Megan took home the first place prize in the Writers of the Future contest and when she's not writing (or blowing things up) she can be found in northern California making soap. If you've not heard of her before now, then pay close attention because you'll be seeing a lot more of her work!

LMS: Welcome, Megan, and Happy New Year. Tell me what stands out in your mind as your most memorable meal?
MEO'K: Far and away my most memorable meal began with myself, my mom, and my fiancé being absolutely doused in champagne. It then progressed into, what can only described as, an accidental feast of desserts.
We were in Florence for New Year's eve in the time before Fireworks in Florence was a nation-wide attraction, so while the piazzas weren't quite as packed as they have been in recent years they were still pretty well crowded. The usual New Year's dinner in Italy consists of pork sausage and green lentils, but we just grabbed some pizza funghi before going to Piazza della Repubblica to watch the fireworks.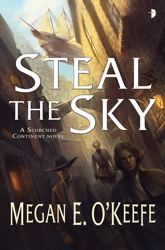 I'd been in Florence on New Year's before, but that night I'd spent inside at a small party. As I cheerfully led my loved ones out to the celebration, I had no idea that when the fireworks go off, so too do dozens of bottles of champagne. It was fun, if a little sticky.
Looking to wash up, we headed back to the hotel. Now when I say "hotel" I really mean something more like a bed and breakfast. The owners lived in the building (along with their adorable kitty), and there were at most a dozen rooms. When we passed by the owner's kitchen to get to our room, he spotted us and flagged us down, asking if we'd like to join their celebration.
Of course we accepted, and found ourselves seated at a trestle table packed full of the owner's friends from around the world, few of whom spoke convergent languages, and all of whom brought a different dessert to share.
I was only able to figure out about half of what I ate – though variations of fruit in cake seemed popular, the ubiquitous Christmas Panettone did not make an appearance. Despite not actually knowing what the foods were, they were all delicious. And it's the fun and conversation that really made the food taste great – even if I was still sticky with champagne and conversing through three layers of translation.

Thanks, Megan. Sounds like a sweet way to start the new year. To follow your example, I had chocolate cake for breakfast on New Year's Day.
Next Monday: Another author and another meal!
Tags: Eating Authors