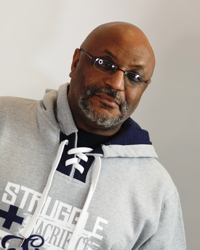 As I've previously noted, May is an especially hectic month for me this year. This post is being prepared a couple weeks in advance, but if all goes as planned these words will go live mere hours after my return from the Nebula Conference in L.A. and I'll already be repacking to travel to Beijing in another 48 hours. And yet, I'm already thinking ahead to July, which also promises to be a hectic month, beginning with the NASFiC in Utah and the qep'a' cha'maH javDIch in Indiana soon after.
Stream of consciousness being what it is, thoughts of Indiana—and particularly Indianapolis—stir up other associations including GenCon, Starbase Indy, and this week's EATING AUTHOR guest Maurice Broaddus who has long called the city home.
When not writing, Maurice devotes his time to community development, enhancing the lives of local residents. You likely know him for his short fiction and his Knights of Breton Court trilogy, though I first stumbled across his work with his brilliant novella Buffalo Soldiers.
Maurice is also the creative genius behind Mo*Con, which is less like a typical convention and much more like a gathering of industry professionals and über fans coming together for fine food, tasty beverages, and excellent conversation.
His latest Middle Grade novel, The Usual Suspects, comes out tomorrow.

LMS: Welcome, Maurice. What's your most memorable meal?
MB: We as a people have notoriously short memories and notoriously hard hearts. We need rituals to drag our imagination back to certain things, to stir our affections, and to serve as reminders to what is important in life. Rituals around food play an important role in my faith (from Communion to Easter), culture (Kwanzaa), and family (especially my parents' tradition of Sunday dinners), even going on to shape my writing community (with Mo*Con, the writing convention I host in May).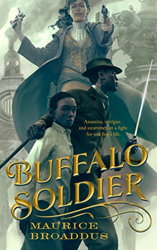 Writing this, I can't help but reflect on our family meals. My dad was not one quick to say "I love you" when we were growing up. Nor was he an especially huggy person, that was just not how his generation expressed things. But he would make BBQ chicken wings. Our Sunday dinners, no matter how poor we were, were spectacles. We'd usually have a couple different meats, assorted side dishes, and something either from Jamaica or England where my family has its roots. Not all of these culinary adventures would be a hit with us kids (because, seriously, why is steak and kidney pie a thing?) However, my dad always made chicken wings and would set them in front of me for me to get first dibs on them because he knew I loved them. I always took that as him saying that he thought about me and loved me. In fact, the BIG display of love would be if any of the kids finished our plates and had eaten all of the food, but were still hungry. My dad would share the food from his plate. It was like a ritual of love and remembrance. So I obviously take meals quite seriously.
With food holding such an important place in my heart, it was more difficult that I thought it would be to choose just one memorable meal. On one occasion, the family (which included a close friend of mine, since we don't distinguish between close friends and family) took a trip to England which culminated with a weekend excursion to Paris where we had a three-hour long meal. It started with cheese, bread, and wine, and … well, there was a lot of wine. I have a vague recollection of frog legs and something in a luscious cream sauce. There was the time me and some family went to New Orleans, where we had a meal involving crayfish, beignets, Hurricanes, and … well a lot of Hurricanes. I have a vague recollection of something spicy.
But the meal that stands out was only a couple years ago at Palimino's, in downtown Indianapolis during GenCon. Me and some fellow game writers had wrapped up a project. We had just finished a live performance of our game, playtesting it in front of an audience and decided to go out to eat to celebrate a job well done. Paid for by the publisher. Who started us off with two bottles of wine and by ordering all of the appetizers on the menu, so we knew we were in for a time. My meal included calamari misto, fettucine frutti di mare, chocolate tiramisu and crème brulee. That was the food I remember because the evening blurred into a flurry of shared plates, the way family does. It also marked the first time I became food drunk. No, seriously, the next day I had a food hangover so bad I couldn't even look at a plate because I was still so full.
I've been thinking quite a bit about the relationship of food and community as Mo*Con is almost upon me again and I'm choosing the right caterers for our meals. To create the atmosphere, to set the table, for a memorable occasion. But such an affair boils down to a simple mix of family/friends (an occasion to deepen the important relationships in your life), drinks (which lowers guards, loosens tongues, thus fueling the sharing of), stories (the shared history of who we are). All on a stage set by great food.

Thanks, Maurice. One of these years I will make my way back to Indianapolis for Mo*Con. I can't think of a better setting to become food drunk.
Next Monday: Another author and another meal!
Want to never miss an installment of EATING AUTHORS?
Click this link and sign up for a weekly email to bring you here as soon as they post.
Tags: Eating Authors