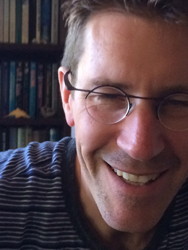 If you're reading this on the Monday that it posts, please know that I am far far away from home, grabbing some much needed down time. While most of the east coast's pod of authors are recovering from Readercon, I snuck off to a mountain lake resort in the Poconos, where there's nary a rocketship or flaming sword to be seen. Before I set off on my brief getaway, I made sure you'd have this week's EATING AUTHOR guest, Mark Budz, here to entertain you.
Mark took second place in the 1992 Writers of the Future contest. He's been nominated for the Philip K. Dick award and won the Emperor Norton award (not to be confused with the Andre Norton award, as falsely reported on Wikipedia — someone go and fix that, okay?), in both cases for his novel, Clade.
He was born just over the river in Cherry Hill, NJ, but bounced around the country quite a bit, a side effect of having a father employed by the National Park Service, but has long since settled in the beautiful Santa Cruz mountains on the west coast.

LMS: Welcome, Mark. I'm especially happy to have you here, the first winner of the Emperor Norton award to grace this blog. But let's get to it, what is your most memorable meal?
MB: In 1986, when I was in my mid-twenties, I had the opportunity to attend Expo '86, the World's Fair held in Vancouver, British Columbia. A good friend and his future wife had reserved a spot in a campground a few kilometers outside the city. During the day, we'd visit the fair. At night, we'd try to avoid being eaten by one of the bears that had started rummaging the campground.
The theme of the Expo was "Transportation and Communication: World in Motion—World in Touch." The Expo was built on the north shore of False Creek, an industrial wasteland, and was the stimulus for urban renewal that transformed Vancouver into a vibrant, cosmopolitan city. Fifty-four nations participated in the fair, along with a number of non-government organizations and corporations. The Expo Centre, an enormous geodesic dome, as multi-faceted as a cut diamond, formed the centerpiece of the fair. Strung out around this, along the bank of the creek, a series of pavilions and modules sparkled like minor jewels in a colorful necklace. In keeping with the theme of transportation, a futuristic monorail ran from one end of the fair grounds to the other, connecting the various pavilions and plazas.
I'm sure there must have been food at the Expo. But I have no memory of what we ate in between visits to the exhibits. What I do remember, vividly, is taking time off from the fair to explore Vancouver. We spent a day sightseeing, and as afternoon slipped into evening we headed back. On the way, starved from hours of walking, we looked for a place to eat.
I don't remember what part of town we were in—not one of the nicest, as I recall—but at one point we came across a hole-in-the-wall Vietnamese restaurant. I'd never had Vietnamese food. And while I was curious, I was also dubious. The place looked squalid. Thoughts of food poisoning raced through my mind. But my friends were hungry, tired, and insistent.
So—in we went.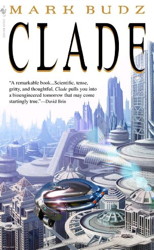 The menu was more exotic than anything we'd encountered at the Expo. The descriptions for each dish were in Vietnamese. There were no helpful pictures. But our server, all smiles, was happy to translate in broken, heavily accented snippets.
Cabbage with dried jellyfish. Stuffed chicken necks cooked in coconut milk. Laque duck. Bean curd filled tomatoes.
I was at a loss.
As an appetizer, we decided on spring rolls with spicy mustard and sweet and sour sauces. The rice paper was so thin and translucent I could make out every shredded carrot, chopped bamboo shoot and sliced shallot. For the main course we ordered chicken in a clay pot casserole, sour fish head soup, fried eggs with pork and onion, and simmered chicken with lemon grass and red peppers.
It was delicious. I savored every mouthful. Not knowing any better, I bit into one of the small, innocuous-looking peppers. It was so hot, I sweated tears.
And loved every second.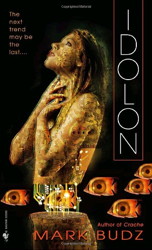 That meal—which was emblematic of the entire trip—was a turning point for me. My upbringing had been fairly conservative and risk-averse. I'd led a sheltered life, laden with all sorts of inherited and often irrational fears that eschewed otherness. In many ways I was still laboring under the weight of that mindset, and that dinner helped to unburden me. It was a catalyst for personal growth, in much the same way that the Expo 86 World's Fair was a catalyst for Vancouver.
Upon returning to Denver, I immediately went out and bought a Vietnamese cookbook. It took me longer to track down an Asian grocery that carried fresh lemon grass, mung beans, lily buds, fish sauce, rice paper, and cellophane noodles. But, eventually, I did. A year later, when my job ended, I packed up and left Denver for good.
Since then I've been back to visit, but only briefly. I've never looked back. I don't see the point, when there's still so much to look forward to. Like spicy hot chicken feet. And chòu dòufu.

Thanks, Mark. I can't help but wonder if the decision to stop eschewing otherness contributed to you writing science fiction? Correlation or causality?
Next Monday: Another author and another meal!
Tags: Eating Authors