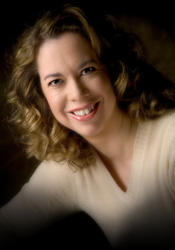 I'm writing this the weekend before it's going to appear, from a hotel room in Michigan. I tell you this as prelude to admitting my meteorological sin (an appropriate kind of transgression give this week's EATING AUTHORS guest) because while it is below freezing here in Novi, MI, the skies are relatively clear and neither wet stuff nor white stuff is falling down. Which is not true back home where my wife reports she has been busily shoveling thigh-high snow just so the dog could get out into the yard to tend to business. That said, I'm sure there'll still be plenty of snow awaiting my own shoveling tasks when I return late Sunday (you know, just in time for the airports to have reopened and blissfully return me to Pennsylvania).
Which bring us to Maria V. Snyder, a Philadelphia native whom I first met at a convention in Baltimore (another city which this weekend has been lost to the latest Snowpocalypse) shortly after she'd finished her MFA from Seton Hill. That doesn't seem that long ago, and yet in that time she's managed to publish two trilogies in her Chronicles of Ixia (the Study series and the Glass series), and is midway through another trilogy, as Night Study, the second book in her Soulfinders series, comes out tomorrow. These are in addition to another five books making up her Insider series and Healer series, as well a good number of short stories too.
In what is perhaps one of the best examples of "paying it forward," Maria has returned to Seton Hill University as a teacher and mentor in their MFA program.

LMS: Welcome, Maria. What stands out for your as your most memorable meal?
MVS: My most memorable meals were Christmas dinner at my Grandmother's house in South Philadelphia. She cooked a traditional Italian feast for her four daughters, their husbands, and 10 grandchildren every year. While we raced around her small three-story row home, she cooked my most favorite meal, which we all called "homemades." Before we arrived, she'd mix the dough and roll it out on her huge dining room table with a long broom handle that had been converted into a rolling pin. She'd cut the dough into long strips for what we called spaghetti, but was technically a narrow fettuccini. While she let the dough "rest" under a table cloth, she mixed the gravy (technically a sauce). Tomato paste and tomato sauce with meatballs, Italian sweet sausage, beef, and veal (all meat fresh from the local butcher) and lots of spices that would simmer for hours. The beef would fall apart on the fork.
Dinner time started with an egg drop soup – I think – very thin broth with egg, but I didn't like it so didn't eat it. She also served chicken capons and rolls, but my plate was always loaded with the homemades. Everyone over the age of 2 was given a glass of wine with the meal. Dessert was homemade pizzelles, biscottis, and Italian cookies all served with fresh perked coffee.
The best part was the next day. Grandmom always gave us a container to take home and homemades tasted even better when re-heated. No one in my family has been able to duplicate Grandmom's homemades and she stopped cooking the dinner when she reached eighty (I was in my early 20s). She taught me how to crochet and I wish I'd been smart enough to ask her to teach me how to make homemades as well.

Thanks, Maria. I'm going to be thinking about this when I'm in South Philly later this week. I wonder if I could go door to door until I found someone with the recipe.
Next Monday: Another author and another meal!
Tags: Eating Authors