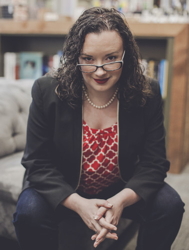 In just over a week I'll be heading to Toronto, Canada, to give a reading at the famed Merril Collection and do a stint as the GoH at SFContario. So, naturally, this has had me thinking about SF authors who make their home in Toronto, many of whom have appeared here in EATING AUTHORS, and some who haven't. This seemed like a good excuse to add to the list of Torontonians, which brings us to this week's guest, Madeline Ashby.
Madeline works as a strategic foresight consultant, which she describes as "the best job in the world," and basically seems to be, in large part, writing science fiction stories to suit the needs of people on the cutting edge of science and industry who want someone to help shape their narrative or show them some of the possibilities they're missing. So, yeah, she might well be right.
When she's not doing that (and seriously, getting paid for it!), she also writes science fiction for the reading public. You probably already know her for The Machine Dynasty trilogy (vN, iD, and reV), all from Angry Robot. More recently her novel Company Town was published by Tor Books, and went on to be a finalist for the Locus, Sunburst, and Aurora awards. More, it was shortisted for Canada Reads 2017, a reality show in which celebrities battle one another (sort of) as champions for different books, until they're eliminated one by one, and along the way everyone (kind of) in Canada reads the books as well. That's just cool.

LMS: Welcome, Madeline. What meal really stands out for you?
MA: It all started at Deception Pass.
Why my dad wanted to camp there, I don't know. We'd had great trips to other spots throughout Western Washington: Mount Baker, Penrose Point, Lake Crescent, Baker Lake, the Dungeness Spit, even a trip to Lake Quinault and the Hoh Rainforest, with its cathedral of ancient mosses. I suspect it had something to do with the goal of the trip: namely, to camp with two other families, both of whom had young children. According to my mother, Deception Pass was simply the best location for all three families, and a place we'd never camped, besides, which meant it held some novelty. Its proximity to towns like LaConner and Anacortes, and local beaches, meant that the first weekend in August would be a delightful one no matter what we decided to do.
Little did we know, when we crossed that nauseatingly high bridge, the same one that later featured so prominently in the English-language adaptaion of THE RING, was that Deception Pass was once the site of human trafficking and murder. White people smuggling vulnerable Chinese workers to lay the railway would "hide" them in burlap sacks so that they could easily be thrown overboard upon encountering other craft. And between 1910 and 1914, the Fidalgo side of the Pass was the location of a prison rock quarry, with about forty workers from the Walla-Walla State Penitentiary literally breaking rocks as punishment. In fact the whole area, the tricksy waters joining what are now known as the Puget Sound and the Straits of Juan de Fuca, historically belongs to the Coast Salish tribes, the only people who knew how to navigate those shallow, rocky waters and traverse those verdant islands.
What I'm saying is, the place is cursed as shit.
But we had no idea of the region's history when we crossed that bridge. That Friday afternoon in August, we were simply intent on finding one of the few campsites with enough space for three families, including five kids and a dog. And find one we did! Up went the tents and the rain flies, and down went the tarps and stakes. The air mattresses were pumped. The fire was lit. Being around eleven, I suspect my job was to keep two of the younger children — about three years old and a year-and-a-half — busy and entertained. I probably shared some snacks with them: Goldfish crackers, or apple slices, or something like that. And in all likelihood, the parents made something easy like hot dogs, or maybe my dad's beer can chicken. I don't remember being hungry. But I do remember what happened next.
Night fell. I remember that it was fully dark, when the other family came. They were late, but that wasn't unusual. They'd left late, which also wasn't unusual. The whole afternoon and evening, we'd craned our necks each time we heard the approach of a vehicle, shaking our heads and rolling our eyes when it wasn't the third family's ancient VW Westfalia. Finally, around 9pm, headlights swept across the campground and the van lumbered up into the remaining parking spot. Out poured our friends: a husband and wife, a tweenage girl, and a pre-school boy.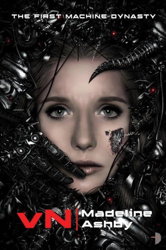 "Sorry we're late," the husband said. "I couldn't leave the house until I'd finished practising my trumpet."
Reader, this was not a euphemism.
They explained all the delays in great and amusing detail, as beers were opened and catching-up was done. The kids stretched their legs. Our dog sniffed everyone dutifully and thoroughly. Speculation was made about the weather, and the stars, and the possibility of hikes. The kids started asking about dinner.
Eventually the wife — the one doing all the unpacking — said to her husband: "Honey? Where's the food?"
Silence settled over the campsite.
"The food?" he asked. "Oh. Yeah. I didn't bring any."
That weekend was surprisingly cold — it hit record low temperatures for the first weekend in August. But this was the moment the mercury began to drop. And it didn't stop falling. Not that night, and not the next, and not really until these two divorced years later.
"You didn't bring the food?"
"Well… No."
"I was at work all day, and you didn't do any shopping?"
She had a full-time job. He was an artist.
"I did the packing! I just didn't pack any food!"
"So…" You could see her trying to rationalize it. Trying to understand. What was his logic? What was he thinking would happen? How had he envisioned this scenario unfolding? "When were you going to get food?"
"Tonight."
"Tonight?"
"Tonight. I was going to go shopping here, at the Albertson's on the way."
"If you wanted to go shopping on the way, why didn't you say so?"
"I didn't want to go shopping on the way. I wanted to go shopping after we got here."
"But we're already here! And we have no dinner! We have nothing to eat! Do you understand how embarrassing this is?"
He might not have, but the rest of us did. We shifted uncomfortably in our camping chairs, and pretended to be very interested in the fire.
"Fine," he huffed. "I'm going shopping. I'm going shopping right now. See?"
He stalked off to the van. He reached to close the sliding door. As he slammed it shut, the whole door fell into the mud below. It slid right off the tracks with a groan and fell off, like a gangrenous limb, into the dirt.
"Jesus Christ," he said.
"That keeps happening," their daughter said. "It happened on the way to school, the other day."
And that is the story not of my most memorable meal, or the best one I ever ate, but a meal that was simply never eaten, at a place called Deception Pass.

Thanks, Madeline. So, what happened next? How many of the campers survived, and who did you eat? And what about the dog?
Next Monday: Another author and another meal!
Want to never miss an installment of EATING AUTHORS?
Click this link and sign up for a weekly email to bring you here as soon as they post.
photo credit: Kayleigh McCollum
#SFWApro
Tags: Eating Authors