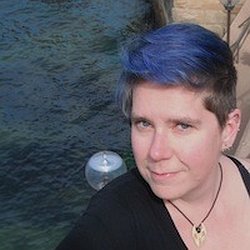 As you read this on Monday morning, I've just returned from a long weekend as a special GOH of a convention. It was great fun, but thoroughly exhausting. So, it's kind of wonderful to come back home and pause here to introduce this week's EATING AUTHORS guest, M. Darusha Wehm, particularly as her first novel, Children of Arkadia, described as a political space station epic, comes out tomorrow from Bundoran Press.
I confess, I don't know Darusha well. She's from Canada, but currently lives in Wellington, New Zealand (and yes, there's been a lot of NZ here in recent weeks), after spending the past several years traveling at sea on her sailboat. She's a three-time Parsec Award finalist, and in 2012 she was shortlisted for the Sir Julius Vogel Award.

LMS: Welcome, Darusha. So, what most memorable meal comes to mind, on the day before your first novel's release?
MDW: Christmas dinner, 2008. My partner Steven and I had left Canada three months earlier on our Big Adventure: a year after moving aboard our 45' sailboat we had gone out to sea. We are in New Zealand now, seven years and 20,000 nautical miles after leaving land life. But in 2008 it was all new and everything was an adventure — even grocery shopping.
We arrived in Mexico in November, after a crash course in offshore sailing and Spanish as we made our way down the US west coast. We knew that provisioning would be a challenge in the smaller villages in Mexico and we were right. We learned quickly that you have to make do with whatever is available, and if it's just some sprouted potatoes and half a dozen eggs, then so be it. We'd stocked up on canned and dry goods in the US, so we weren't going to starve, but this was our first taste of having to be truly creative in the galley through lack of stores. I became an expert at making meals from whatever was lying around. While we might have eaten some odd meals, we ate well.
But I have a thing about Christmas dinner. In my family, Christmas was a cultural rather than a religious tradition but it was a tradition. Both of my parents immigrated to Canada, though from different part of the world. For my Kiwi mother, Christmas was just another summer holiday, but it was my father's main connection to his Eastern European heritage, and we did it up. A real tree with real candles. Homemade chocolates. Stewed, spiced red cabbage, a roasted goose, wine. These things are, to me, the essence of Christmas. So, how could I possibly even begin to have Christmas in tropical Mexico, on a boat?
By mid-December, I'd resigned myself to the idea that we would just ignore the holiday. After all, days of the week had already become irrelevant. Our days were ruled by the sun, the wind and the waves, not a human calendar. We'd just have to go with the flow — giving up on having control was one of the hardest lessons for me when we were sailing, and this seemed like just another thing I had to accept. There would be no Christmas. It would be fine.
We pulled into the bay off the resort town of Cabo San Lucas shortly before Christmas. We went ashore in search, as always, of provisions first and tourism second. I had what would become a recurring theme in our travels — the exquisite joy of finding a fully stocked supermarket where you least expect it. They had not only a full selection of produce, but frozen food! Fresh milk! US-brands of packaged goods! I felt like one of those people on a 1980's game show, running around with my trolley grabbing random things off the shelves as if someone might snatch them out of my grasp. Our log book reports that "we bought all the groceries we could carry," but of course the reality of having to carry our supplies back to the jetty, then row them out to our boat meant that all we could carry wasn't really all that much. However, I did manage to get a red cabbage, a box of stovetop stuffing mix and a few nice vegetables for roasting. Christmas was saved!
On the day, we found a beautifully secluded anchorage around the corner from La Paz. We were all alone there except for the birds and the fish and the hills. While the cabbage stewed, we swam off the side of the boat, chasing the tropical fish that shared our private bay. Roasting the vegetables made the boat even hotter than it already was, but it was worth it. And I did modify one of the traditional dishes to account for our circumstance: instead of making rum ball truffles, I made rum ball flavoured ice cream.
It wasn't exactly my traditional Christmas dinner. But it was delicious and marked a transition from one stage of my life to another.

Thanks, Darusha. Adventures on the high seas and creating new family traditions, what more could anyone ask for?
Next Monday: Another author and another meal!
Tags: Eating Authors