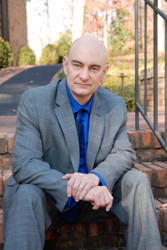 In the US, it's Memorial Day, considered by many to be the "official" start of summer. In the FSF community it's also the end of arguably the busiest convention weekend on the calendar. I was only able to sneak away to one day of a convention on Saturday, owing in large part to my heading up to Book Expo America & Bookcon in a couple days, and the Nebula Awards shortly after that. Coast to coast, I hope to catch my breath by the second week of June.
Meanwhile though, here at EATING AUTHORS, we interrupt this year's series of meals from Campbell Nominees to bring you a visit from editor-turned-novelist Lou Anders. He appears to have always been drawn to words, having worked as a playwright, a journalist, a screenwriter, and an editorial director and art director in publishing (winning both the Hugo and Chesley awards for that last one).
You might have heard the old joke that many actors really want to direct. I suspect that a corollary to that is that many editors really want to write. And so I'm pleased to tell you that the paperback edition of Frostborn, Lou's first novel, comes out tomorrow. And in less than two months you'll be able to pick up a copy of the sequel, Nightborn as well.
Before that though, let's find out about his most memorable meal.

LMS: Welcome, Lou. From past conversations, I know you've eaten some incredible meals. What stands out as the most memorable?
LA: I don't know if I can pick the single most memorable meal. I've been fortunate in that I've traveled a great deal around the world, and I'm very adventurous in my culinary pursuits, so I've eaten a great many wonderful meals and also some quite interesting ones. Rather than pick a single dining experience, I'm going to go through the highlights.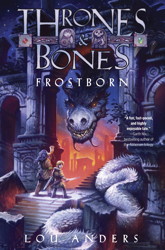 When I was in junior high, I was invited to spend the night at the house of a friend whose family were somewhat rural. We sat down at their dining room table, and they brought out a plate piled high with twelve grilled squirrels. "Shot in our own yard," the mother explained. I didn't want to offend my hosts, so I dug in. And I can tell you that squirrel tongue is quite tangy, while the brains were kind of mealy and powdery. Not my favorite meal by a long shot, but one I'll never forget. Also, a few years later, an angry squirrel actually chased me down a sidewalk chattering at me loudly the whole way. I wonder if maybe he knew.
At the opposite end of the scale, when I lived in Los Angeles, my father would come through town on business a couple times a year. He'd always take me and my then-screenwriting partner out to Mr. Chows in Beverly Hills. Mr. Chows is an Asian-fusion restaurant where the best thing to do is not to look at the menu but allow your waiter to plan your meal for you. The salt and pepper shrimp there is the best I've ever had in my life, and Mr. Chows pretty much ruined me for eating lobster anywhere else. But what made those meals was the time spent interacting with my father. Also the celebrity spotting at other tables. My mother joined us once. She was walking over to a table, and thinking she was behaving like a tourist, I told her "Leave them alone. That's Selma Hayek." Mom replied, "Oh, I don't care who she is, but I want to see what she's eating."
Six months after I got married, my wife took me to China for the first time. The breakfast buffet at the Grand Hyatt in Shanghai is tremendous. It's where I first had Fire Dragon Fruit, which looks like its name on the outside and sort of like a dalmatian-colored kiwi on the inside. Honestly, the food all over China is tremendous. We were in Beijing last year, and a cousin took us to a famous duck restaurant. My wife wasn't crazy about it (though I was) but that's not what made it memorable. The place was a dive, hidden down a rubble strewn alley with ducks graffitied on the wall to tell you how to find it. The main room seemed to be a courtyard or smaller alley between two buildings, with some corrugated plastic stretched across the gap to make a room. But it was famous, and the entrance hall was lined with photos of actors and politicians (and NBA stars!) who have dined there. But it is a hole in the wall. It started raining, and suddenly water poured through the ceiling in great sheets. We were in the back room, which was raised a few inches above the floor. But the main room was soon an inch deep in water. The waitresses were all laughing and taking photos on their cell phones. As a refrigerator was at the heart of the deluge, I was worried someone would get shocked. But we had a lot of food, including some sort of amazing, sugarcoated sweet potato things, so we just waited it out. Probably never go there again, but I'll never forget gorging myself on duck and sweet potatoes while watching it rain indoors.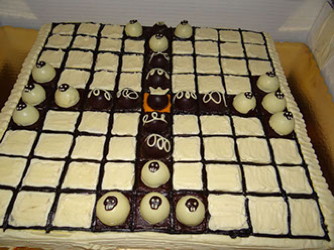 Finally, and you'll have to forgive me for the plug, but the victory dinner the week my first novel came out was tremendous. We had a private room for friends and family at DoDiYo's, a Greek restaurant here in town. My book series is titled "Thrones & Bones" and this refers to a board game that one of the lead characters play. I designed the game myself, and we made a cake to look like it. The cake, with the board design, was made by Whole Foods, but we went to Godiva Chocolates for the playing pieces. When we explained what we wanted, a young woman working there explained that she was in culinary school and volunteered to go over and above the call of duty in decorating chocolate truffles. She made little skull faces, loops and a crown to distinguish the good guys from bad guys. It was a thing of beauty, and large enough that we ate on it for a week. One day when my son saw the size of the serving I cut for myself, he protested, "Hey, why does Dad get such a big piece of cake?" My wife replied, "It came from his imagination. He can eat as much as he wants." And so that cake, my friends, is the centerpiece of one of the most memorable meals of my life. Also, it tasted a lot better than squirrel.

Thanks, Lou. You know, I've written a lot about alien meals in my fiction; I'm going to have to remember your wife's words going forward. And also to write about cake!
Next Monday: Another author and another meal!
Tags: Eating Authors