This past summer, as part of my experience at Sasquan, the 73rd World Science Fiction Convention, I was on a panel about food. This happens more and more frequently (as I've mentioned previously) and this blog series is probably a large part of why. Among the audience members that afternoon was this week's guest, Loren Rhoads, who was so taken with the panel that she followed up weeks later with an email and introduced herself (and her books). Naturally, I sent her an invitation to EATING AUTHORS, and so here she is.
Loren spent a decade as the editor of Morbid Curiosity, described in her bio as a nonfiction cult magazine. It's a short jump from there to her compelling Wish You Were Here, a book of essays about visits to some of the world's most famous cemeteries. More recently though she's the author of the In the Wake of the Templars space opera trilogy from Night Shade Books, with all three books releasing in 2015. The Dangerous Type launched in July, Kill by Numbers came out a month ago, and No More Heroes is expected in November.

LMS: Welcome, Loren. What do you consider your most memorable meal?
LR: I treat my birthdays as the excuse for an adventure. I'd heard about San Francisco's Opaque restaurant, where the servers are visually impaired. While other restaurants might blindfold you to give you the experience of eating while blind, Opaque stresses that their restaurant is entirely dark. I wondered how they accomplished that. The answer was the one I didn't consider: Opaque is in a basement. In Earthquake Country. With no Exit signs.
I'm not afraid of the dark, but I don't like small places. Total blackness, to me, feels claustrophobic. The whole thing seemed like a magnificent, slightly terrifying adventure.
The table had been set before we arrived. I ran my fingertips over the silverware, trying to orient myself.
Opaque's menu is limited to three simple courses. You can order off the menu or ask them to surprise you. I wasn't ready for that level of risk, but I did commit myself to the mystery dessert.
My husband Mason was instructed to meet the server at the edge of the table where she would pass him the food and clear away our dishes. She brought an amuse bouche. We were supposed to guess what it was. We recognized salmon with a drop of wasabi on a slice of cucumber.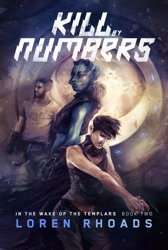 Flavors seemed brighter in the dark. I could practically see the colors of flavors as we explored a mystery plate of crudités. The lemon aioli felt bright yellow, probably brighter than if I seen it. The sun-dried tomato dip tasted orangish pink. The hummus felt toasty brown. We gobbled up the slices of peppers and carrots. The server complimented us on recognizing so many of the flavors.
After that, I had a mixed green salad with warm goat cheese, candied walnuts, and grapes. In the outside world, I don't like grapes. I don't like anything with a skin you bite through. In the dark, unable to eat around them, I enjoyed grapes for the first time in my life. Their flavor blended beautifully with the slightly salty cheese and the crunchy, sweet walnuts. I think I polished off every bite.
I found it astonishingly easy to use a fork in the dark. If you think about it, your hand knows exactly where your mouth is. The only part of the meal that made me uncomfortable was when I misplaced my fork. Instead of putting it down on the right-hand side of my plate, I set it down along the top. I worried I'd need to admit I'd lost it on the table, but then my frantic fingers finally bumped into it.
I hadn't realized how much of a meal is visual to me. Instead of waiting to be sated, I usually stop eating any restaurant meal by cutting it in half. Without the visual marker, I kept eating my salmon entrée for the sheer sensuous pleasure of it. I never knew if I'd get a bite of white beans or sweet potato or the salmon with its perfect crust. Each forkful was a wonderful surprise.
While I didn't need dessert, I wasn't ready for the experience to be over. I figured I'd eat a few experimental bites and push it aside. Instead, the first bite gave me shivers of pleasure. Vanilla ice cream, drizzled with warm caramel sauce, melted over hot apple crumble. It was exactly the dessert I would have ordered, if it had been on the menu. I forced myself to push it away unfinished, but it was a struggle.
I would love to go back again, Lawrence, if ever you come to San Francisco.

Thanks, Loren. That definitely sounds like a dark ride. Doubtless there's a trip to SF in my future. The trick will be scheduling it far enough in advance to ensure I can get a reservation.
Next Monday: Another author and another meal!
Tags: Eating Authors