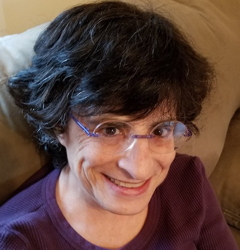 Welcome to 2020, or as I like to think of it, the tenth year of EATING AUTHORS. Seriously, that's a lot of meals under the bridge (or something like that). You'd think I'd have run out of people to invite, but no, I have plenty of folks lined up in the weeks and months to come, and every confidence that others will arrive as needed to share their tales of incredible repasts.
To kick off the new year, I invited Lisa Goldstein to drop by. Lisa has taken home quite a shelf of prizes including the National Book Award (for The Red Magician), the Mythopoeic Award (for The Uncertain Places), and the Sidewise Award. She's also racked up multiple nominations for the Astounding, Hugo, Nebula, World Fantasy, and other awards besides. She's also written two novels of high fantasy (Daughter of Exile and The Divided Crown) under the pseudonym Isabel Glass.
Her latest (and fifteenth) novel, Ivory Apples, came out back in October, a book about a book, or more specifically, the author of a book. And also magic, of course. She and her husband and their Labrador retriever live in northern California.

LMS: Welcome, Lisa. Thank you for starting the year for us. Please tell me about your most memorable meal.
LG: The most memorable meal I ever had was in Rome, at a restaurant called Grappolo d'Oro. I knew that food in Italy was good, of course, but I didn't really know how good. I ordered ravioli with cheese and something called tartufi, which turned out to be truffles. Not only had I never had truffles before, I had barely heard of them; if you'd asked, I would have said it was a play by Moliere. They were deep, earthy, full of dark, delicious flavor. And the rest of the ingredients were great too, each one in perfect balance with the others, and tasting as if they'd been created just that morning.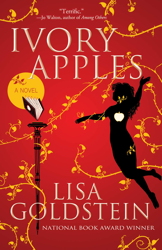 After that, I ordered truffles at every restaurant that listed them on the menu. Another restaurant, in Perugia, had truffles in something called scamorza, a kind of baked cheese. This was my second-most memorable meal — the place was called Il Settimo Sigillo, which means "the seventh seal," and had something of a Knights Templar motif. We never found out why.
When I got back I looked around for more truffles.
Unfortunately, they're phenomenally expensive here. Black truffles, the kind I like, mostly grow in France and Italy, and they're hard to farm; usually they're hunted with truffle hounds. The only solution, I guess, is to go back to Italy.

Thanks, Lisa. This of course brings up the question: can a labrador retriever be trained as a truffle hound. Empiricism demands that you return to Italy with your dog. Keep us posted.
Next Monday: Another author and another meal!

NB: links to authors and books here are included as part of an Amazon Affiliate account. If you follow any of them and ultimately make a purchase Amazon rewards me with a few pennies of every dollar.
Want to never miss an installment of EATING AUTHORS?
Click this link and sign up for a weekly email to bring you here as soon as they post.
Tags: Eating Authors