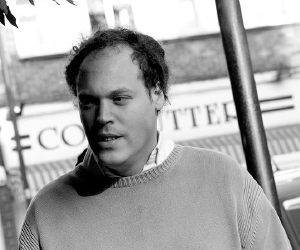 Welcome to the post-Hannukah, pre-Christmas 2012 edition of EATING AUTHORS, the weekly blog feature that eschews literary cannibalism by requiring writers to inspire us with retellings of their most memorable meals. Or something like that. Our guest this week is none other than Lavie Tidhar who's ending the year with a checklist for his recent novel Osama that includes wins for the World Fantasy Award and the Kitschies Award, and as well as nominations for the John W. Campbell Memorial Award and the BSFA Award.
Many of you already know that Lavie is an Israeli born author and that he grew up on a Kibbutz. Since then he's bounced around the globe, living in the UK, South Africa, Vanuatu, and Laos, and his writing has benefited from all that travel. His Bookman series (Bookman, Camera Obscura, and The Great Game) have redefined Steampunk in glorious ways, and his work as an editor on the The Apex Book of World SF and more recent The Apex Book of World SF 2 anthologies have brought attention to the genre authors far beyond the traditional venues of the US and UK. If you haven't been reading him, doing so should be high on your list of new year's resolutions.

LMS: Welcome, Lavie. I'm excited to learn which of what must be many special and exotic meals stands out for you.
LT: I've had some memorable meals – one of my favourites was me cooking in a Dayak longhouse in Borneo – and when I was living in Vanuatu I once spent a week in the Torres Islands (the most remote part of Vanuatu) living on coconuts crabs, which look something like alien invaders, but taste gorgeous.
The one that sticks in my mind, though, for whatever reason, was in Swaziland. I'd gone down there with my dad and we were staying with colleagues of his near Mbabane. They told us of this amazing chef who had opened a restaurant in a lodge somewhere, and we got into the cars and drove up into the mountains, to this hotel – it was dark by then. The chef was an Englishman (about six months after this meal he married a chief's daughter from Zimbabwe and moved to her village) and the deal was this:
There were nine courses – three starters, three mains, and three desserts – I think! You could have as many courses as you wanted, of any of the dishes, in any order. No dishes were alike and apparently he cooked new dishes every night.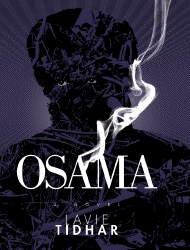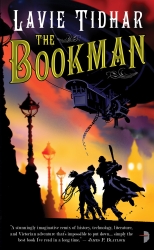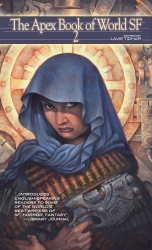 I don't even remember what the dishes were, exactly, but I loved the novelty of the concept, and the food really was exceptional. It was just such an unlikely place for this experimental chef to plant himself in.
Another meal I remember less fondly was me buying a parcel of freshwater prawns (freswota naura) in Vanuatu – I lived on an island called Vanua Lava, in a little bamboo hut, and we could get very little food – mostly rice and tinned fish. So I was very happy when I got these prawns, but I didn't realise quite how fresh they still were. When I unwrapped the leaf covering the prawns escaped and started scuttling all around the hut, and I had to chase them with tongs, pick them up as they wriggled, and dump them into the pot.
This took a while.

Thanks, Lavie. You know, I've always wanted to visit Vanuatu. Now that I know the culinary options are somewhat limited, I might need to rethink that (or bring my own prawns).
Next Monday: Another author and another meal!
Tags: Eating Authors