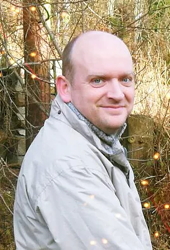 When I appear on programming at conventions, I go to great lengths to make sure they include my middle initial anywhere they use my name. I'm successful about 80% of the time now. It's not that I'm a diva, it's that there's another Lawrence Schoen out there who also has a doctorate in psychology, and he got there first. So, I make a point to always use that M (it's for Michael, in case you're curious). Meanwhile, that other Lawrence Schoen, the poor bastard, has had more than two decades of people badgering him about Klingon.
But that's nothing compared to what this week's EATING AUTHORS guest must put up with. Kevin MacLeod is the internationally best selling author of the Viking Apprentice series (the first book of which was credited on March 23rd, 2015 as the most downloaded children's ebook in the world, with over 23000 downloads that day alone!). Kevin — born and bred in Hamilton, a town in the central lowlands of Scotland — shares his name with two footballers (one English, one Australian), a Canadian ice hockey defenceman, the former Canadian Secretary to the Queen of Canada, and several musicians. And that's not counting the variations of Kevins who spell the surname McLeod or even McCloud and also suck up bandwidth on internet searches.
Despite such complications, his readers find him just fine.

LMS: Welcome, Kevin. Tell me please about your most memorable meal.
KM: Just last year, around October, my wife and I decided to take a trip to a little place in Scotland called Aberfeldy. It's in Perthshire and is a really beautiful town. The kids and dogs were safely with their gran so off we went in search of some relaxation. My wife used to holiday in Aberfeldy when she was young and remembered a cafe in the town square that she loved. After a 2 hour drive we arrived to find the cafe was closed, no explanation, just closed. It was lunch time, and it was closed.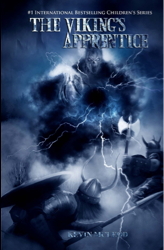 Undeterred we set off in search of somewhere else to eat and came across a very unusual place, The Rhino cafe. It was nothing much to look at from the outside, but something told me this was the place.
In we went and got seated and the first thing we noticed was the sheer amount of rhino ornaments and toys, everywhere. Apparently it's the largest collection anywhere in the world. On reading the menu it turned out that the owner was french and now found himself in Scotland.
I ordered black pudding, topped with a poached egg, a drizzle of honey and mint. It was gorgeous, every mouthful was amazing. It was so simple yet so beautifully done. The egg was cooked perfectly, the black pudding was the best I've ever had and the hint of honey and mint brought a freshness I'd never tasted before. For dessert I ordered crepes with lemon and sugar. Again, so simple, but done to such a high standard that I didn't want the meal to end. Thinking of the meal now makes me hungry. I think when you discover somewhere new and totally unexpected it can be a wonderful surprise. The Rhino Cafe definitely falls into that category.

Thanks, Kevin. Though I have to say, I'm disappointed that you didn't mention if they had fresh rhino on the menu. I'm assuming they must, as it's the perfect accompaniment to light and delicate crepes.
Next Monday: Another author and another meal!
Tags: Eating Authors