Lately (for a project that I'll talk about on this blog come November) I've been corresponding with a lot of past nominees for the Campbell Award. This has been great fun, and in several instances it's allowed me to segue from that project to this blog and invite folks over to tell you about there meals. One such bit of serendipity is today's guest Katharine Eliska Kimbriel.
Like a growing number of authors, Kat's explored new avenues in publishing, bringing her backlist to ebooks via the wildly popular Book View Café, and in fact releasing the latest book, Spiral Path (volume three in her Night Calls series), on their website as well as the usual places just last Tuesday.

LMS: Welcome, Kat. Let's talk memorable meals.
KEK: More than a few reviews of my Night Calls series over at Amazon have people mentioning the cooking. "She makes food sound so good I want meals I normally hate."
Not what you'd expect from an alternative history fantasy set in 1810 pioneer America. But food became a big deal for me about fifteen years ago. I started thinking seriously about what people eat, when they eat it, and how food has shaped our societies and history. Most of all I wondered how often do we engage the senses of taste and smell when we write a book?
Perhaps this is why I love a beautifully done buffet. Not those things slapped together at your local motel or Luby's–no, I mean when you go to an Indian or a Chinese restaurant where the owners take great pride in their menu. I'm talking about when you find an all-you-can-eat experience that sends you through the roof, like visiting a Four Seasons Sunday brunch. Not for the faint of wallet, but the choices are entertaining all by themselves.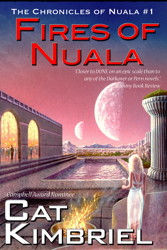 My current favorite meal is to visit one of the Brazilian steak houses in my area. We have all-you-can-eat Fogo de Chao and Estancia, just for starters, and other families have launched Brazilian and Argentinian restaurants, too. They all offer meat cooked in churrascaria style, which is essentially South American barbeque. I discovered Fogo when I could not have gluten at all, not a pasty drop, but that was not a problem at these steak houses. The to-die-for warm cheese bread, called pão de queijo, is made with tapioca flour. Other traditional side dishes include crispy hot polenta, garlic mashed potatoes, and caramelized bananas. There is a huge salad table with a variety of fresh, pickled, and steamed vegetables on it. High end cheeses, smoked salmon, and dried cured meats complete with Caesar salad and breads for those who have room. A dozen olive oil and vinegar bottles wait for you to try them.
Then there is the meat–more cuts of beef than you knew existed, along with lamb, pork, and chicken, all prepared simply with herbs, salt and paper, and garlic, everything from rare to well done. Almost everything is seasoned without gluten. You turn over a small paper coaster next to your plate, and as long as it is green, the chefs bring their wares for you to sample and choose.
It's quite crazy. No one can eat enough to justify the price, but that is why it's a rare treat–I can go and eat cheese rolls and filet mignon until my deep, primitive dragon brain says, "I will digest now." They have wonderful desserts, including great flan and crème brûlée made on the premises. But sometimes, unlike Spenser, I say neither dessert nor drink–all I want are the basics. South American basics. I often eat vegan for days after a visit.
In my new book, Spiral Path, Allie finally makes it to the mysterious Cousin Esme's exclusive school. And slowly discovers that the head cook is a chef who has wandered the globe, learning new foods and new ways to cook. Not just the French manner, imported by President Jefferson, but a world of possibilities. Allie's a little young for a glass of 43 liqueur to finish the meal, but give me time.
At Estancia, they bring 43 to you on ice.

Thanks, Kat. You know, I'm a fan of the churrascaria meat-till-you-die restaurants and manage to hit one every couple of years or so, but no one has ever offered me a shot of Licor 43 to cap the meal.
Next Monday: Another author and another meal!
Tags: Eating Authors