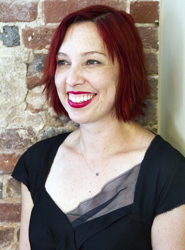 I just returned from a glorious weekend at Albacon, where my friend, the erudite Chuck Gannon was the GoH, and I had the delightful task of serving as his Roast Master. The timing was particularly good, as Sunday was also Doctoral Day, the personal holiday I observe to mark the successful defense of my dissertation thirty years ago. I mention this because as you'll soon discover, it's relevant to Kat Howard's most memorable meal, and she is this week's guest here at EATING AUTHORS.
I can't tell you much about Kat. Among the things we have in common are that we were both born in Chicago and have both been college professors. That — along with her obvious culinary taste — may be the extent of our similarities, but it's a promising foundation I think.
Kat's been nominated for the World Fantasy Award for short fiction, and last year branched out to novels with the release of Roses and Rot. Her next book is a fantasy thriller set in New York City. Look for An Unkindness of Magicians in early autumn, or save yourself the trouble and just pre-order it today.

LMS: WELCOME AND QUESTION
KH: When I was first asked to write this piece, I was so excited. I love food! And I have had so many good meals in my life. Even if you were to limit them to meals with other writers, I could talk for hours. I would mention the kindness of Ellen Kushner and Delia Sherman, who met me for dinner in a new city before my first reading, and kept me calm. Or of Jim Hines, emptying his pockets for apples and granola bars when I collapsed at a conference from low blood sugar. I would tell you about how the best meal at any conference is always the one where you grab your friends and run away and eat somewhere other than the conference hotel.
You'll notice that except for the granola bars and apples, I don't mention food.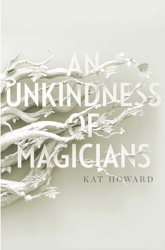 Turns out, when I think about best and happiest meals of my life, I pretty much remember the love and the people, and completely forget the menu, no matter how great it was.
So I'll tell you about one I do remember. When I lived in the Twin Cities, one of my favorite restaurants there was the 112 Eatery in Minneapolis. And while I'm usually willing to be fairly adventurous about my food, there were two dishes there that I fell in love with so hard, they were pretty much the only thing I ate when I went there: the pan-fried gnocchi with parmesan reggiano, which I would order for an appetizer, and the tagliatelle with foie gras meatballs, which I would get a half order of for dinner. Amazing. Rich. Glorious. Like, I would go back to Minneapolis in the most bitter week of February to eat this meal again, wonderful.
And so I know, that the evening of August 9, 2009 when I defended my dissertation in medieval literature, when my parents took me out for a beautiful dinner to celebrate, that was what I ate.

Thanks, Kat. A successful dissertation defense deserves an excellent meal. Of course, you had me at foie gras, as meatballs no less!
author photo by Shane Leonard
#SFWApro
Tags: Eating Authors