I'm posting this week's EATING AUTHORS from the road. I'm in southern California visiting family, and so it's quite possible that I screwed up the scheduling with respect to the time zones. So don't be surprised if this shows up three hours early, three hours late, or just right. However it happens, my guest this week is none other than famed author and equestrian, Judith Tarr.
You probably know her from her Avaryan Chronicles series, The Hound and the Falcon trilogy, her the White Magic series (written under the name Caitlin Brennan), the War of the Rose series (written as Kathleen Bryan), and more than a dozen other novels including collaborations with folks like Harry Turtledove, Jane Yolen, and S. M. Stirling.
Judith is a professional medievalist, used to teach Latin, and now breeds and trains Lipizzan horses. Her fiction has been nominated for the World Fantasy, Locus, and Sturgeon awards, and won the William Crawford award. Her latest work is Dragons in the Earth, available from the fine folks at Book View Cafe.

LMS: Welcome, Judith. What stands out as your most memorable meal?
JT: Amid all the memorable meals I've eaten in my writing life, I keep coming back to two. They both happened on the same trip. One was so remarkable for its setting that I barely remember what we ate or drank. The other, everything was so perfect that I can still taste it, all these years later.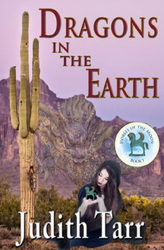 That was the summer I walked away from a publisher over editorial differences. I had already booked three weeks in Europe. My sister had just finished her junior year in Munich, and I was going over to meet her, help her pack up her things, then wander around Germany, Italy, and a slice of France before heading back with her to the States.
So there was I was, with a dead book contract and a cliff in front of me — and a new publisher appeared at the very last minute, right before I was due to leave, and saved the day.
In my family, when we travel, we generally take the economy route — but we treat ourselves to one big splurge. One truly fancy hotel, and one high-end meal. This time, we booked a cruise down the Rhine, with stopover near the Lorelei, at a castle converted into a hotel: Burg Rheinfels.
It was a genuine medieval castle, built high on a cliff above the river, with a narrow, twisty track up to it from the village below. The restaurant was situated at the top, with acres of windows looking across to brother and sister castles — one called the Cat and one the Mouse — and down down down to the river. There were hawks hunting below us.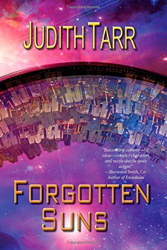 As I said, I don't remember what we ate. I just remember the spectacular scenery, and my first taste of Weissbier, in the traditional tall narrow glass. I am not a beer person, but Weissbier was… not bad. I could almost drink a whole glass.
This medievalist and scenery-maven was in bliss. But there was a great deal more to the trip, including Ravenna with its glorious mosaics, and Venice, which has a rather malodorous reputation in August.
We didn't find it so. I fell in love with the city, strange ancient sinking place that it is. We sat outside a little bistro on the Lido in the long summer evening and drank Frascati and ate tiny calamari fried and served with lemon. Simple and perfect: delicate crunchy little morsels that tasted of the sea. There wasn't any way to improve on that.

Thanks, Judith. You know, in a perfect world, those hawks would be diving down and snatching up bits of calamari from unwary patrons of bistros.
Next Monday: Another author and another meal!
Tags: Eating Authors