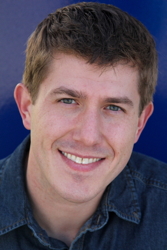 The end of October is just around the corner, which means Halloween, eating candy that should really have been offered up to masked, marauding children, as well as a long drive up to Saratoga Springs for the World Fantasy Convention. It also means a mere two months until the release date of Barsk, and the emails and phone calls and interviews and reviews will continue to ramp up and devour my brain. It's been a euphoric chaos so far, and November is going to be much more of the same.
But for a short while it's still October, and today I must focus on this week's EATING AUTHORS guest, Josh Vogt. He's that bravest of souls, a fiction author who has shed the world of traditional day-jobbery to support himself by his craft. Or to put it more simply, he's a freelance writer. I am in awe of such people. Seriously.
This past May saw the release of Josh's first novel, Enter the Janitor, book one of his Cleaners series. He diversified and followed it up a month later with a novel in the popular Pathfinder Tales series, Forge of Ashes.
I'm also told that The Maids of Wrath (aka Cleaners book two) has been moved up from a 2016 release and is expected in just a few weeks. Unfortunately, as of the time of this post, I don't have a firm release date or cover to share with you. But if you just keep clicking on Josh's photo and follow the link to the list of his books, I promise you the particulars will show up there soon.

LMS: Welcome, Josh. What stands out as your most memorable meal?
JV: Food and I have a tricky relationship. I definitely enjoy eating—sometimes a bit too much—and I have a decent hand at cooking so long as a recipe's handy. I've even taken a few cooking classes and enjoy the occasional culinary experiment (which often ends up with my smoke alarm getting set off). At the same time, I've got this mentality that "food = fuel," and I can scarf a post-gym meal without tasting much. I rarely remember what I ate last yesterday, much less a week or month ago. So when a dining experience from nearly five years back remains stuck in my mind, it has certainly distinguished itself.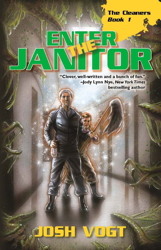 While visiting a friend in the Portland area, we were debating what to do for dinner. Our friend, however, told us he had the situation handled. Having a history of working in the restaurant industry, he knew quite a few folks around the city, including a bunch of waiters, bartenders, and chefs. So he set up a progressive dinner for us. Sadly, I didn't take good notes and can't quite recall the actual names of the restaurants we went to…but the experience is one I'll never forget, barring major brain damage.
We started with appetizers at a French cuisine spot, enjoying a savory soup with fresh seasoned bread, all accompanied by excellent wine. We then moved to an Italian establishment where we got to sample the chef's wide range of famous ravioli, including veggies, cheeses, and meats, with multiple sauces for each. Then on to an American-style grill where various tender cuts surrendered to our steak knives. Lastly, we wound up at a bistro famous for its cheesecake and champagne. We ended up with half-a-dozen different slices, which we shared all around the table while sipping the bubbly.
All along the way, the restaurant staff at each spot would hang out at our table, chatting and laughing and telling all sorts of fun stories. The chef's were incredibly proud of the meals they produced and loved seeing our delighted reactions to their dishes. It was the perfect combination of amazing food and fantastic company. And because everyone we encountered knew our hosting friend, we got steep discounts (if not everything on the house) on an experience that would've likely cost a couple hundred apiece in normal circumstances. The whole memory of the evening has this warm "glow" to it in my mind, likely bestowed in part by the drinks imbibed with the courses.
Whenever I remember that journey of a dinner, it reminds me that food can be fuel for the spirit as much as the body—especially when the joy of it is shared with others.

Thanks, Josh, that sounds remarkable. And um, you'll be introducing me to that friend, right?
Next Monday: Another author and another meal!
Tags: Eating Authors