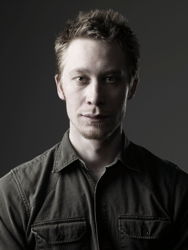 The year is winding down. Just the other day, my wife and I gathered with family for Thanksgiving, my first ever without eating meat, which was… well, odd. Tomorrow I fly off to Hangzhou, China, for an adventure that promises to both croggle my brain and wrack my body. But this morning I can feel the year waning around me. It's like the first stirrings of next year are trying to catch my attention. Seems like a set-up for a segue to me.
That frisson of endings and beginnings is nicely captured by Jon Skovron, this week's EATING AUTHORS guest, whose adventure fantasy series, The Empire of Storms, comes to its conclusion with book three, Blood and Tempest, coming out tomorrow.
I first met Jon just under two months ago. We were on a panel together. He was clever and articulate and wry, and if he was fairly new to the whole experience of being on that side of the convention table, it certainly didn't show.
In addition to his adult fiction, Jon also writes YA, so check out some of his other titles like
Misfit and Man Made Boy.

LMS: Welcome, Jon. So what stands out as your most memorable meal?
JS: I don't think it would be ungenerous of me to say that Columbus, Ohio in the 1980's was a cultural wasteland, especially when it came to food. Taco Bell was considered Mexican food, and I can't remember name of the Chinese restaurant we went to because we always referred to it simply as "the Chinese restaurant". I didn't even know that Thai, Ethiopian, or Burmese food could be obtained in America. So it should come as no surprise that when people said "ramen", the only kind I knew came in a square shape with a packet of powder flavoring. In fact, it wasn't until my late thirties that this grotesque hole in my culinary education was filled.
I was finally introduced to the bliss of proper ramen on a chilly October day in 2015, when my editor took me to Ippudo on 51st Street in Manhattan. I was in New York to record the audio book for my fourth Young Adult novel, This Broken Wondrous World, at the Random House offices. Ever on the lookout for a free meal, I suggested to my editor that we meet up for lunch somewhere nearby while I was taking a break from recording. When she asked if I liked ramen, I didn't know what she meant exactly, but said of course I did, because, again, free meal.
Ippudo was small, crowded, and raucous. When we entered, everyone shouted some sort of greeting to us in Japanese. We were seated in a cramped corner with a table barely big enough for the two of us. The menu baffled me and I was too self-conscious to ask questions, so I just ordered the same thing as my editor. And when the giant bowl of shoyu ramen arrived a short time later, it launched what might very well be a lifelong obsession.
There is nothing "instant" about true ramen. In fact, to do it right takes a few days to prepare. Ideally the noodles should be on the thick side, fresh and hand cut. The broth is usually a pork and/or chicken base, with a bass note provided by kombu (a thick seaweed). It's always rich and salty, although every chef prepares it slightly differently. Some use sake and/or mirin (sweetened sake), while others make their broth spicy with curry, wasabi, or peppers. Typical toppings include pork, bamboo shoots, seaweed, or egg, with any number of other toppings included or extra. I have sampled just about every ramen joint in the greater DC area, several in New York, London, and a few other cities as well. I love ramen so much that I've learned how to prepare it myself, and I make it regularly during the colder months. You can find my recipe over on Fran Wilde's "Book Bites" blog series. But none of it will ever compare to that sublime moment I first slurped some freshly made ramen noodles on 51st Street.

Thanks, Jon. A meal is always better when an editor picks up the bill (and if mine is reading this, I've never had a NYC ramen experience — hint, hint).
Next Monday: Another author and another meal!
Want to never miss an installment of EATING AUTHORS?
Click this link and sign up for a weekly email to bring you here as soon as they post.
Tags: Eating Authors