Welcome to another installment of asking authors about their favorite meals, a weekly feature that came about because I spend a lot of time writing about a self-confessed foodie.
This week, we hear from John Hemry. He's a retired naval officer whose fiction aptly illustrates the write-what-you-know rubric, as evidenced by his series Stark's War (Stark's War, Stark's Command, and the forthcoming Stark's Crusade) as well as his JAG in Space series (A Just Determination, Burden of Proof, Rule of Evidence, and Against All Enemies).
John also , writes under the not-so-secret, action-hero sobriquet of Jack Campbell, where he's thrilled readers with his Lost Fleet series (Dauntless, Fearless, Courageous, Valiant, Relentless, and Victorious). You'd think that'd be enough, but you can't keep a good pseudonym down, and Jack Campbell has two additional series in the works, Lost Fleet: Beyond the Frontier (which has already seen its first volume, Dreadnaught published) and The Phoenix Stars. And somewhere in there, John finds time to write short fiction too, having contributed to the first three books in the small press Defending the Future series (Breach the Hull, So It Begins, and By Other Means) and as a regular in the pages of Analog Magazine.

LMS: John, as an officer and a gentleman, tell us your best, most memorable meal?
JH: The best meal I remember having? There have been quite a few memorable ones, but the meal that usually stands out was in Athens, Greece, in 1980.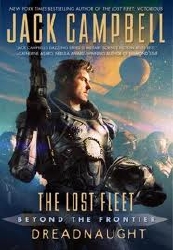 My ship was in port in Pireaus for a few days, and one of the other junior officers had been told about a great little French restaurant in downtown Athens, practically in the shadow of the Acropolis. We had a few cars available, so several of us piled into one and went looking for the place. Athens being Athens, and our directions being poor, we drove around in circles for quite a while. Eventually, we voted to give up and find somewhere else, and as the driver turned the next corner we found ourselves staring at the place. The only nearby parking spot was so tight the car couldn't be maneuvered in, so since it was a small car and there were several of us we sort of slide it in sideways. (This was years before the Mentos commercial; perhaps some ad exec saw us.)
The restaurant was small and the food was amazing, topped off with Jamaica Blue Mountain coffee. The best French food I've ever had, in a small restaurant in Athens not far from the Acropolis.

Thanks, John. Who says you have to go all the way to France for fine French cuisine? Especially when Greece is just around the corner.
Next Monday: Another author and another meal!
Tags: Eating Authors