The return of spring has also meant a return to geocaching. If you're not acquainted with it, geocaching involves following GPS coordinates to a location where someone has hidden a container. Typically, at a minimum, this "cache' contains a log which you sign and date to prove you were there. It mays also contain trinkets and swag of wide description. The size of the caches range from something as small as the tip of your finger to enormous ammo boxes. They can be hidden in plain sight in parking lots or secreted along woodland trails. It's oddly fun, and it gets me out into the world, seeing parks and preserves in and around Philadelphia that I never knew existed.
And speaking of Philadelphia (he said by way of segue), Jessica Reisman, this week's EATING AUTHORS guest, hails from here. I feel an odd kinship with Jessica. I dropped out of college yet ended up with a doctorate; she dropped out of high school and nonetheless has a master's degree. I like to think that such experiences shapes a writer's perspective in unique ways. This certainly seems to be true of Jessica, whether she's writing about haunted space stations or economically abandoned mining colonies, there is the touch of a different mind, a foreign presence, that alters and informs the way we experience the world. I think we'd all do better with a bit more of that.

LMS: Welcome, Jessica. Would you tell me about your most memorable meal?
JR: When I was 11, I went from Philadelphia to San Antonio to visit my mother for a month. It was summer, 1974, and my mother, who left when I was seven to "find herself," was living at a commune called the City of Love and Light that took up two floors of an old, once elegant hotel in downtown San Antonio.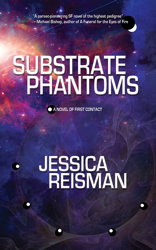 Mostly we ate in the communal dining room. My mother was one of the cooks and the food buyer. My main memory of the dining room is one of the other cooks talking about having a nightmare in which they ran out of Tobasco sauce and all the men pounded the tables in revolt.
Sometimes we ate in the hotel restaurant, though—my first exposure to grits for breakfast took place there—and once at a restaurant in the city.
It was a family-owned and run restaurant on the ground floor of an old city building. Cool tiled floors, a deep stone fountain against one wall, massive palms and other greenery—a secret grotto, lush and lovely in the city's heat. A child of the northeast, I had never had Tex-Mex or Mexican food at all. I already knew I didn't like jalapenos—or Tabasco sauce. The owners, an older couple who made the food, came out and talked to my mother and her current beau about what I might enjoy. What they produced for me was a simple plate of nachos. Just large triangles of house-made corn and lime chips, a dollop of the best refried beans I would ever taste on each, and just the right amount of melted white cheese like a see-through veil across it all.
Nothing had ever tasted so good. For dessert, the woman brought me a cup of Mexican hot chocolate, cinnamon, vanilla, gorgeous. To this day, I remember that plate of nachos as one of the most wonderful things I have ever eaten. And that hot chocolate as the perfect, kind-hearted end to the perfect meal in a setting of real, everyday magic. As an adult, I've had many memorable meals, and by the grace of fabulous friends, some truly magnificent ones. But the meal that remains most memorable, still numinous, is this one.
Why does this meal retain such indelible savor in my memory? The combination of elements, my mother being with me, the welcome of the couple who owned the restaurant, the adventure—summer in a different city—in which the evening was couched, the beauty of the restaurant's tile, stone, water, and greenery…it felt like all the good things, both home and journey, earthly support and magic. For a kid who felt unsafe and insecure in the world, longing for some sense of home and welcome, who was also a rabid reader, and already writer, of fantasy and science fiction—it was everything. I'm pretty sure the memory of that meal has at least a little to do with how I ended up coming to Austin, Texas for grad school, and maybe even why I'm still here—though the nachos of that memory have never been matched. Local El Chilito makes a pretty good cup of Mexican hot chocolate, though.

Thanks, Jessica. The phrase, the nachos of memory, is going to haunt me now.
Next Monday: Another author and another meal!
Want to never miss an installment of EATING AUTHORS?
Click this link and sign up for a weekly email to bring you here as soon as they post.
Tags: Eating Authors