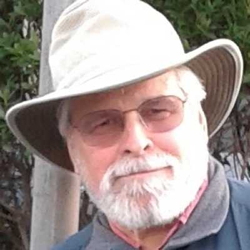 As has been said before, Tempus fugit. I mention it here because I have entered the fourth (and presumably final) cycle of my chemo therapy. It all wraps up on January 2nd, and then I'll have a few weeks to get ready for my bone marrow transplant and three weeks or so in the hospital. Too fun.
In the meantime, I'm working frantically to get a significant subset of all the things done because I've been assured I won't feel like doing bupkis once I'm in hospital. That's included reaching out to lots o' authors so I could front load upcoming EATING AUTHORS posts so you don't have to do without while I am otherwise indisposed.
Say, that looks like a segue (of sorts) to introduce you to this week's guest, Jeffrey A. Carver.
So, here's the thing I like best about Jeff: it's not that he's a Nebula Award finalist for Best Novel, or that he wrote a book in Roger Zelazny's Alien Speedway Universe, or even that he wrote the novelization of the Battlestar Galactica miniseries. Nope. What makes him so cool is that back in 1995 he developed and hosted a live, interactive TV series on writing science fiction and fantasy that was beamed into middle-school classrooms all over the country. Seriously, how many of us even come close to that kind of street cred.
I'm just sorry it's taken me so long to get him here.

LMS: Welcome, Jeffrey. You know the drill. Recount a meal, please.
JAC: When you first asked to talk about a memorable meal, my mind went blank. Was it that really good pizza, or maybe the meal at the Spanish restaurant that someone treated us to? Or maybe a meal paid for by a publisher? Or that marvelous meal in France? No… none of those stands out enough. What about the Surf & Turf I used to serve my family when the girls were young: a delectable meal of fish sticks and hot dogs? Maybe. Maybe not.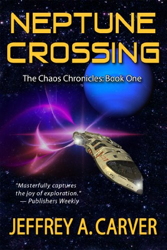 Then my wife reminded me: Perhaps the most memorable eating experience was not so much about the food as the entire experience surrounding it. How about that memorable dining experience in that wonderful city, London? We were in London for Loncon, the World Science Fiction Convention in 2014.
We had made a late decision to go, and by the time we signed up, all the hotels were filled. Allysen went online to find a solution via Air BnB. "Hey," she said, after a bit. "Do you want to stay on a houseboat on the Thames? It has all the amenities. Kitchen. Onboard bathroom. It'll be an adventure."
I agreed enthusiastically. It would be a bit of a hike from the convention, but so what? It was a houseboat! On the Thames! What could be more romantic and exciting? We signed up.
Following a trip across the Atlantic, we arrived, weary, and even wearier after our half mile walk from the Tube station, at our home-away-from-home. It was not… quite… what we had expected. Not exactly a houseboat, if we were to be honest. It was a small, admittedly charming, sailboat. Still, it was on the Thames, right? That was exciting in and of itself. Except, no; it could get to the Thames, if it moved far enough. But it was actually moored at a huge marina, some ways up a tributary, surrounded by a high, chain link fence and the sounds of construction. We needed to memorize a passcode to get through the chain-link gate. More on this later.
Our host greeted us jovially, but reacted with alarm when he saw our suitcases–three small carry-ons. "I'm not sure how well those will fit," he said, as though it had never occurred to him that visitors from America might arrive with suitcases. No matter; we stepped carefully over the gunwale and made our way into the cabin for the short tour. There were several cramped bunks, and a pervasive smell of mildew. My daughter started sneezing on the spot, and immediately decided she would sleep in the open-air outer cabin and hope it didn't rain.
But hey, this is about meals. We eagerly looked forward to the coziness of simple meals cooked in the little boat's kitchen while we rocked gently on the Thames. Well… kitchen was perhaps too grand a word for the little sink, littler cooktop, and a toaster and electric tea kettle which, because of the boat's wiring, could not be used at the same time. I think there was a micro-fridge. True to our host's promise, he had provided makings for a morning pick-me-up: a jar of old instant coffee, and a box of stale teabags.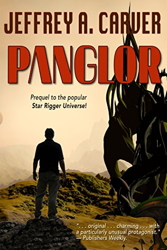 We would make it work! I saw at once that we needed more electric, and brought out the power strip and UK plug adapters I had cleverly thought to bring. I plugged in the strip. Snap! Poof! Alas, my cleverness had not extended to checking the voltage capacity of the power strip.
But so what? Come hell or high water, I was going to make a meal in that kitchen! And indeed, for breakfast I managed to cook a couple of eggs in the toy skillet, made some toast, and—alternating use of the outlet with the kettle—heated some water. I am no tea drinker, but after spitting out my one and only cup of Jurassic-era instant coffee, I loved me my cuppa Liptons. We sat in the outer cabin and breathed in the marina air, exhaust fumes and all, and reveled in the fact that we were in London!
So that's my most memorable meal—worldcon in all its glory! Ask me sometime about the access code to the entry gate changing without warning at midnight, when I'd gone to the bathroom building in a thin t-shirt and shorts. (Bathroom on board? Yes, there was one. But we couldn't use it, because, well, the boat had no holding tank). Or ask about my belt breaking at the con, and how I had to walk around holding my pants up with one hand while searching in vain for a dealer who might have a belt for sale*.
Sigh. Of events such as these are some of my most vivid recollections made.

Thanks, Jeff. Further proof that context is king, and the power of reframing a situation to — as the song goes —accentuate the positive and eliminate the negative. Personally, I'd have probably been vindictive on my last night and made use of the head, holding tank or no. Clearly, you're a better man than me (or you just left that part out).
Next Monday: Another author and another meal!

NB: links to authors and books here are included as part of an Amazon Affiliate account. If you follow any of them and ultimately make a purchase Amazon rewards me with a few pennies of every dollar.
Want to never miss an installment of EATING AUTHORS?
Click this link and sign up for a weekly email to bring you here as soon as they post.
Tags: Eating Authors