A few weeks back I was on a (virtual) panel at Capclave. The topic was "authorial friendships" and both panelists and audience members had a delightful time. Mind you, I can say the same thing about all the programming I experienced that weekend, and regular readers here won't be surprised because I have waxed with lyrical praise for Capclave for many years.
But I mention this particular event because one of my co-panelists was someone I'd never met before, and we had such a fine time together that midway through the panel I reached out in a separate chat box (the digital equivalent of passing her a note) and invited her to show up here at EATING AUTHORS and talk about her most memorable meal.
In case you haven't figured this out yet, that author was none other than Jeanne Adams, aka this week's guest. She's been writing for the past ten years, series of books in science fiction, fantasy, as well as magical mysteries that blur the line. You can expect to find a themes of romantic suspense in her fiction as well. A critical element that runs through all her work is a simple rule: in the end, love always wins.
Jeanne lives in Washington, D.C. where when not writing she enjoys books and films that are ripe with explosions. Presumably these two data points are not related to one another.

LMS: Welcome Jeanne, tell me about your most memorable meal.
JA: My father served in World War II in the medical corps of Patton's Army. As many of you may know, prior to D-Day, the US moved troops steadily and stealthily into England. Rather than build barracks, however, which would expose the troop build-up to German spies, soldiers were billeted with families all over England. The subterfuge disguising the sheer number of US troops actually worked.
It also spurred some amazing, life-long friendships.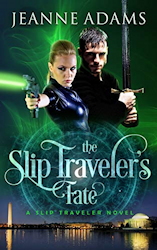 That Thanksgiving, twenty years ago, we were gathered 'round the table at my sister's house. My 81-year-old father was still alive, and hearty (and newly remarried, but that's another story!). We had a guest as well. Dr. Kenneth Russell was my father's friend from Leicestershire, UK. He'd grown up there, and my father had billeted with Ken and his family for several months prior to D-Day. Ken was just enough younger than my dad that he couldn't yet serve. Daddy, a young man from rural South Carolina, wide-eyed and worried to find himself living among strangers in a strange land, instead found a haven with the Russell family.
That Thanksgiving, my brothers, sister and I heard stories we had never, ever heard. We learned that Ken's mother would write long chatty letters to my grandmother. The soldiers couldn't write home lest they give away where they were. Mrs. Russell would write and say, "Concerning a young gentleman of our mutual acquaintance, you needn't worry. He is well and eats heartily." I also hadn't known, until this conversation, that rationing meant many went hungry in England during the war. However, those with billeted soldiers got extra rations. Ken told us that his mother managed to stretch those rations to improve the whole family's diet. He said they were forever grateful for that.
Ken and my father reminisced about black-out curtains and bombing runs as the rest of us listened in rapt attention. My father was always reticent about the war years, but that day Daddy and Ken talked of my dad's stand as a conscientious objector, and how hard it was to be a non-drinker and nonsmoker in the Army. Ken spoke of the little town of Brierly Hill where they'd lived, and both men were grateful it didn't take much damage during the war. Daddy then talked about how the soldiers had barely celebrated Thanksgiving in the field. (He'd been in Belgium, freezing his butt off.) That led Ken to wax rhapsodic about this most American holiday, Thanksgiving.
"What a concept," he said. "A holiday devoted solely to eating. To gratitude." He was so enamored of it, from that year on he joined us for Thanksgiving. Every year, he and Daddy would talk a bit more about their experiences during the war. What little I know about my Father's service, I know from these dinners.
When my father died, Ken was one of the first people we called. He wept on the phone with me, and told me he'd never had a better friend. The next Thanksgiving, he brought his whole family to join us for the holiday. He told us other stories of those long ago days, and those stories were made even more precious because of my father's absence.
While we won't be able to get together this year, and Ken, now in his 90s, doesn't travel, I know I'll get a call or an email on Thanksgiving wishing us well. Ken will also, most likely, wax rhapsodic about how fabulous it is to devote a holiday just to eating.

Thanks, Jeanne. I can't think of a better start for November than to create a sense of appreciation for the relationships in our lives. Here's hoping it carries us through to the holidays and beyond.
Next Monday: Another author and another meal!

NB: links to authors and books here are included as part of an Amazon Affiliate account. If you follow any of them and ultimately make a purchase Amazon rewards me with a few pennies of every dollar.
Want to never miss an installment of EATING AUTHORS?
Click this link and sign up for a weekly email to bring you here as soon as they post.
Tags: Eating Authors