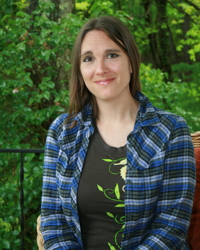 I met this week's EATING AUTHORS guest in Kansas City back in August. There I was, up at the crack of 8:30, participating in the WorldCon's "Stroll with the Stars" as I like to do. About two-thirds of the way through the route I noticed two women in front of me, chatting as they walked. The one on the left had a t-shirt with some superlative on the back (sorry don't recall what now) that referenced whatever was on the front and I realized it was going to make me crazy if I didn't find out what was on the other side. So I said "excuse me," brazenly interrupting their conversation, apologizing for my rudeness, and explaining that I was the t-shirt variant of earwormed (or something like that).
The issue was quickly defused — I think it was a shirt for a local pizza place, but again, it's a blur — and the three of us started talking about more traditional convention-type things. Which is how I learned that one of them, Jamie Lackey, was a novelist and her first book, Left-Hand Gods, had come out just the month before from my old publisher Hadley Rille Books.
Like many of the authors featured here, Jamie studied under the legendary James Gunn. She's written more than a hundred short works in horror, science fiction, and fantasy (and check out her zombie post-apocalyptic novella, Moving Forward). But our usual focus here is novels, so let's get back to her debut. It's a fantasy adventure involving magic and handedness. Kudos, Jamie, for a marketing ploy that will get all the lefties picking up a copy!

LMS: Welcome, Jamie. What stands out as your best, most memorable meal?
JL: After giving it some thought, I have to say that the best meal I've ever had was Christmas Eve last year. It was our first Christmas in our house, and I decided to go all out for Christmas Eve dinner. We'd always lived in tiny apartments before, without a way to really cook an impressive holiday spread.
I wanted to roast a goose. I'd never even eaten goose before, but the idea of a Christmas goose just seemed right.
I didn't really know what I was getting into, but I'm fairly stubborn and I'd decided I was doing this thing. I scoured Pittsburgh for a goose, and ended up finding one in the Strip District. After a few moments of sticker shock, I persevered. I had my goose. The recipe also called for port and brandy, which are not staples in my household, so I had to make a special trip to the state store.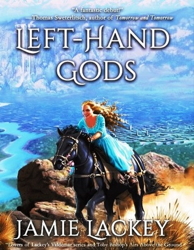 The day before Christmas Eve, I got it out of the freezer and realized that it was half an inch too long for my roasting pan. So, I braved the holiday rush and got a new roasting pan.
Once I was back home, I realized that I didn't have anything to brine it in. I'd been planning to put it in the sink, but the sink had chosen that day to rebel–it was horribly clogged, and the goose didn't fit into it anyway. After some time spent frantically searching through my kitchen for any viable options, I ended up putting it out on the deck in a plastic storage tub filled with saltwater.
I was feeding other people, but mostly I was cooking for myself. I made all of my favorite holiday foods. The full menu was: the goose, Cumberland sauce, chestnut stuffing, mashed potatoes, sauteed Brussels sprouts, roasted green beans, creamed carrots, butternut squash casserole, cranberry fig relish, and pineapple casserole.
I spent all morning cooking. Our kitchen isn't huge, but we have a canning kitchen in the basement, so I'd been planning on using both ovens. However, as I learned that morning, the second oven doesn't actually work. But it does get warm, so I managed to use it to keep things in as they came out of the functioning oven.
In the end, everything was ready right on time. And it was all perfect, if I do say so myself.

Thanks, Jamie. There is a magic to first holiday meals in a new home. Which is not to say they always work out, only that they generate stories which get told for years and years. Glad yours had a happy ending (though I'm wondering a bit about the sink…)
Next Monday: Another author and another meal!
Tags: Eating Authors