I'm very pleased this week to once more "jump the pond" and bring you an author in the tradition of J. G. Ballard. I refer of course to James Lovegrove who has been making a splash with his Pantheon series of books, military-SF adventures that combine ancient gods and high-tech weaponry. The third book in the series, The Age of Odin landed him on the New York Times best seller list.
James has won the Seiun Award, as well as been a finalist for both the Arthur C. Clarke Award and the John W. Campbell Memorial Award. In addition to his other novels, he's written YA fiction, some of which has appeared under the name Jay Amory. As an illustrator he's busy designing posters, postcards, and t-shirts. He also finds time to write reviews for fiction and graphic novels.
But the thing that makes me most envious of James is the view he has of the sea from his home on the Sussex Coast. It's truly a wonder that he gets any work done at all.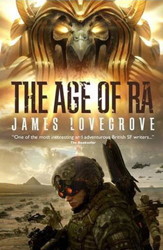 LMS: Welcome, James. So, what's the best, most memorable meal you've ever had?
JL: Technically speaking the best meal I have ever eaten must be the one I had in the late nineties at Bibendum, a Michelin-starred restaurant on the Fulham Road in London. It was a family celebration and we had decided to push the boat out — quite far out, in fact, because it was the most expensive meal I have ever had and probably will ever have. Ironically, I can remember little about what I actually ate, apart from the starter, which was scrambled eggs with truffle flakes on top. The truffles propelled the price of the dish well into two figures, and it tasted… okay, I suppose. Like eggs and fancy fungus, really.
The truly most memorable meal I have ever eaten, though, was in a Thai hilltop village in 1990. I was trekking with a guide and a small group of travellers through the northern jungles of the country, right up near Cambodia. Earlier that day we'd met a local hunter who had strayed across the border and stepped on a landmine left over from the war. His right foot was a homemade prosthetic fashioned from teak wood.
Arriving at the village in the late afternoon, footsore and exhausted, we were served curry by the headman's wife. God alone knows where the meat in that curry originated. I didn't feel like asking. It was probably goat. But the curry itself was sublimely delicious – spicy but not too much so, creamy with coconut milk, just the right texture, with chunks of vegetable and shreds of meat that melted in the mouth, an absolute treat.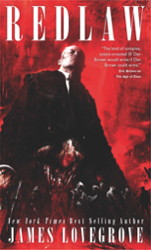 I had seconds, then thirds. Hunger and tiredness no doubt enhanced the taste, but I am convinced that it was the best curry I have sampled.
Then a young man turned up on a moped with an insulated container strapped to the back. Inside the container were ice lollies. Sugary, syrupy, probably packed with a thousand chemicals, but deliciously cold, they were the perfect afters. Again, I went back for a second, then a third.
The moral of the story is that a good meal isn't about money or celebrated chefs, it's about context and timing and need.

Thanks, James. I think you've imparted some valuable advice here: when in doubt, assume it's goat.
Next Monday: Another author and another meal!
Tags: Eating Authors