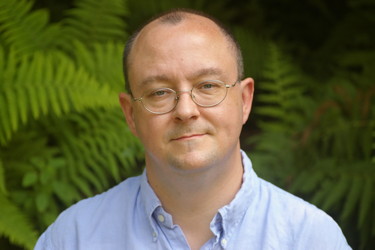 Last week, James L. Cambias saw the release of his first novel, A Darkling Sea, beginning what I can only hope will be a long and productive new chapter in his career. Which is not to say that James is a newcomer, not by any stretch of the imagination. He's been writing short fiction for over a decade (full disclosure: we shared a ToC back in 2004 in the All Star Zeppelin Adventure Stories anthology from Wheatland Press), and has been designing games for even longer.
Perhaps most importantly, for my purposes, he hails from New Orleans, which given his obvious creativity and talent means he's been exposed to and appreciates a wide range of culinary delights from his earliest days. I'll be honest, I've been chomping at the bit for his book to come out so I could invite him here. And, as you're about to read, it's been well worth the wait.

LMS: Welcome, James. I have no doubt that you've had many a memorable mean over the years. What's been the best of them?
JLC: It's not easy for me to pinpoint my greatest meal ever. My parents were "foodies" before that was even a word. We lived in New Orleans, a place where people literally spend lunch talking about where to have dinner. We made pilgrimages to restaurants in Europe the way others visit cathedrals.
Shall I describe the spit-roasted lamb my family ate in an Italian monastery turned hotel back in 1982? Shall I write about the four-hour dinner of boiled crabs I ate at Sid-Mar's in New Orleans in 1988 with the girl I later married? Shall I recall the wonderful Vietnamese meal I ate in Philadelphia's Chinatown in 1995, at a restaurant which vanished like something out of a fantasy novel so I never could find it again?
Instead I'm going to describe a more recent meal, one my wife and I ate at Eleven Madison Park in New York. This one has the advantage that it's still fresh in my memory, plus I kept the menu so I have a cheat sheet.
This past October my talented wife and I went to Comic-Con in New York, leaving our kids to manage on their own (no great trick now that one of them can drive). It was a working trip for me; now that I'm a Real Writer I'm planning to get on the program at Comic-Con to promote my books.
But, as the man at the Overlook Hotel put it, all work and no play makes Jack a dull boy. We decided that this once we wouldn't look for bargains or take the cheap way out. This time, we were going to splurge on an epic meal. My wife booked us a lunch at Eleven Madison Park.
Since we don't live in New York, I don't keep up with that city's food scene. All I really knew is that Eleven Madison Park is one of the few Michelin three-star restaurants in New York (there's only seven — out of just ten in the whole country; which does suggest a certain insularity to the Michelin ratings). It's run by superstar chef Daniel Humm, and the theme of the place is an homage to New York City's culinary traditions and the state's agricultural products.
They don't say so out loud, but the menu at EMP also pays homage to another very long-standing New York tradition: deception and illusion. Madison Avenue, after all, is the home of hucksters and ad men, and the square is where it crosses Broadway, home to the city's masters of theatrical trickery. You'll see what I mean as I describe the meal.
The setting is an old Art Deco bank lobby, which makes it cool and impressive, like some sort of temple of scientific gastronomy. The wait staff are impeccable and numerous. It's definitely an old-school restaurant experience.
There's also none of this modern nonsense about ordering from menus. You walk in, sit down, and the chef sends out your meal. You give up the stress of decisions and gain the chance to be surprised and delighted.
It was a long meal, with fifteen tasting courses. Some were little more than an amuse-bouche, and none were what one would call heavy. The goal is rarefied gourmet exquisiteness rather than a gourmand's groaning board.
First Course: a black and white savory cheddar cookie with apple. We accompanied this and the next few courses with champagne (I'm afraid I don't remember what label).
Second Course: oysters on the half shell with a marvelous topping of sorrel and bulgur wheat which was pickled somehow.
Third Course: sea urchin marinated with shrimp, foie gras, and chervil. I've never been a great fan of urchin — the time I had it at a sushi restaurant it reminded me of avocado gone bad. But this was delightful, more like an urchin mousse.
Fourth Course: smoked sturgeon, brought to the table under a glass bell with some charcoal still smoking underneath it.
Fifth Course: foie gras terrine with plums and bitter almond.
Sixth Course: carrot tartare. This is another show-stopper — the waiter set up an old-fashioned hand-crank meat grinder at the table and proceeded to grind up carrots for each of us, accompanied by a platter of spices, quail egg, and other stuff to mix in.
Seventh Course: poached lobster claws with brussels sprouts. Very nice and a good way to wind up the champagne before switching wines.
Eighth Course: roast squash, which was stuffed with sage and some other aromatics before cooking. They brought it whole to the table before cutting it open so we could inhale the plume of sage-laden steam. I believe around this point we started on our second wine, a red from Domaine Gauby in Roussillon (near Perpignan in France). Astounding wine.
Ninth Course: duck two ways — grilled with onion and beets, and roasted with turnip and huckleberries. The duck was like beef.
Tenth Course: a little picnic bucket with champagne grapes, pretzels, mustard, and a bottle of beer.
Eleventh Course: a malted egg cream with vanilla and seltzer. Another New York classic.
Twelfth Course: apple sorbet with bay leaf creme brulee and hibiscus.
Thirteenth Course: sweet potato cheesecake with honey and chestnut. I think at this point I switched to coffee (after two wines and beer I was getting a little muzzy).
Fourteenth Course: chocolate pretzel covered with sea salt.
Fifteenth Course: a sweet black and white cookie, matching the one that began the meal in appearance but not taste. This is accompanied by a magic trick performed by the waiter involving a chocolate candy. I think I know how the trick works, but it was very smoothly done and I won't spoil it.
They sent us on our way with a little bag of granola cereal for next morning's breakfast, and we went off to Grand Central Station feeling very content.
I think what separates a merely good meal from a great one is that a great meal is an experience. Those memorable ones I mentioned nine hundred words ago were all vivid experiences as well as great meals. The difference between those three and this long lunch is that Eleven Madison Park is a carefully designed and stage-managed experience. That's not a criticism: however much New Yorkers like to bellyache about "authenticity," the fact is that their city's whole modern history is based on delivering perfectly-managed experiences. Eleven Madison Park does it with food.

Thanks, James. I confess I haven't yet ventured into the world of Michelin dining, but your account makes me want to correct that oversight, and very soon.
Next Monday: Another author and another meal!
#SFWApro
Tags: Eating Authors