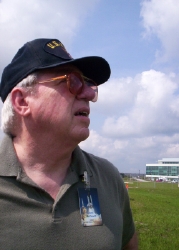 Our guest this week on EATING AUTHORS broke in to the field with his first story sale in 1980 at the tender age of 45. Two years later, his first novel won the Philip K. Dick Award. I'm talking about Jack McDevitt. He has been nominated for fifteen Nebula Awards, five Campbell Awards, and two Hugo Awards. He's took home one of the Nebulas and one of the Campbells. And there's no indication that he's slowing down.
Jack's probably best known for two series of novels, the Priscilla "Hutch" Hutchins series (begining with The Engines of God), which in addition to boasting seven novels also has another half dozen short stories set in the same universe, and the Alex Benedict series (a mere six books, beginning with A Talent for War). He also has several stand alone novels and a vast and uncountable number of short stories.

LMS: Welcome, Jack. Can you tell me about your most memorable meal?
JM: My most memorable meal by far is one I missed. It was an opportunity to join in a celebratory banquet for John F. Kennedy. This is a bit off center for what you're asking, but anything else I could provide would be relatively dull.
In 1957 I was a senior at LaSalle College in Philadelphia. I wrote a weekly column for The Collegian, the school newspaper, and also worked 38 hours a week as a cashier at a downtown supermarket. It was a busy era and I didn't have much time for nonsense.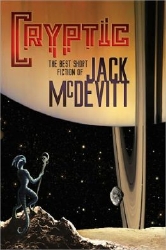 The Collegian gave a ceremonial award each year to a writer whose work had had a serious positive influence on the nation. In 1957, the leading candidates were JFK, for Profiles in Courage, and Walt Kelly, for Pogo. I didn't have much faith in politicians, and I loved Pogo, so Kelly got my vote. But Kennedy won. Which shows you how alert my colleagues were.
The ceremonial dinner was set for a Saturday night. It was the closest thing I had to a night off in those years, and I simply decided not to squander it listening to a politician I'd barely heard of go on about a book I figured someone else had probably written anyhow. So I found something more compelling to do.
I understand they had roast beef.

Thanks, Jack. And… that's how we do things here in Philly!
Next Monday: Another author and another meal!
Tags: Eating Authors