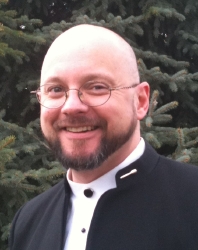 I don't know about you, but today marks the start of a very exciting week for me, beginning with a trip up to New York to meet with literary agents and ending with my birthday on Saturday. Most of the middle portion will be spent in the company of Klingon speakers, who will be descending on Philadelphia from as far away as Australia for the 20th annual Klingon Language Conference (what we call the qep'a' cha'maHDIch), and that's especially exciting for me because it includes some of my favorite people in the world!
I tell you all of this by way of setting up a crude segue, as this week's guest, Howard Tayler, also qualifies as one of my favorite people in the world. He's the creative genius behind the webcomic space opera, Schlock Mercenary, a daily dose of fun that everyone should set up to load on their browser, phone, and/or tablet automatically. And it's not just me that thinks so. Howard has nominations and wins in several categories from the Web Cartoonists' Choice Awards, as well as Hugo Award nominations for Best Graphic Story for each of the past five years! As if that weren't enough fame for one man, you may also know him as one quarter of the team that produces the Hugo-nominated pod cast Writing Excuses, with Mary Robinette Kowal, Brandon Sanderson, and Dan Wells.
The other thing you need to know about Howard is he's also a marketing genius. Recently, he ran a kickstarter campaign that didn't simply meet its funding goal, its 2600 contributors did so eighty-five times over! And yes, his webcomic comes out daily and for free, but about once a year he gathers up all those strips and publishes them in a book (because sometimes you just can't access the web, you know?). The latest bound volume, number nine, Schlock Mercenary: The Body Politic is available for pre-order, directly from the Tayler Corporation.

LMS: Welcome, Howard. I know you know the score here, so let's jump right in. What was your most memorable meal?
HT: It's 2011, and I'm in Reno with my wife Sandra, and our friends Sal and Caryn have joined us. We're there for WorldCon 69, staying at the Atlantis hotel and Casino, and we are all exhausted from a day of booth preparation. The convention has not yet begun, so we've got some time off. Obviously, the thing to do is eat out.
We go for a walk along one of those busy, sprawl-supporting arteries that a car-culture city like Reno depends on. It is decidedly pedestrian-unfriendly. The restaurants and other businesses are spread out far enough that a twenty-minute walk will put us in striking distance of maybe four places to eat. We're tired. We might end up at the Outback Steakhouse – tasty enough, but we've all been there and done that in our hometowns when the franchise still felt fresh.
There's a place just beyond Outback. The sign says "La Vecchia," and it's scripted to suggest Italian food. It looks small, and probably kind of pricey. I'm pretty tired, and I don't think I'm up to navigating a new menu. Outback is actually kind of appealing.
Sal breaks into a jog toward the restaurant.
"Guys, let me poke my head in the door," he says. He opens the door and leans way in. He stands that way for a moment, and then disappears inside.
Sandra, Caryn and I stand on the sidewalk for a moment, exchange glances, and then begin trudging up the path towards La Vecchia.
The door opens, and Sal emerges. He's only been in there for thirty seconds, tops. He is wide-eyed, and is waving both arms in an enthusiastic "come-hither."
"Guys, they are making fresh bread, and everything smells REAL."
Did I mention that my friend Sal, Sal Sanfratello, is Sicilian? And knows Italian food? I guess I could have foreshadowed that a bit better. Anyway, he is, and he does, and we follow him into La Vecchia. He is positively beaming by the time we sit down. I can tell that it smells good, but he is reading something from these smells that suggests perhaps he's been in just the sort of kitchen from which these aromas emanate, and knows what we're in for.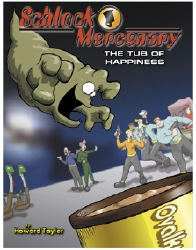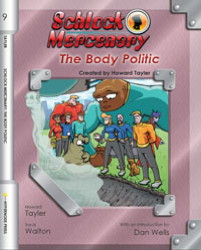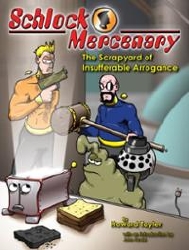 What follows turns out to be the best meal I've ever eaten. We begin with a dish of lightly-sweetened walnuts atop Gorgonzola dolce on a bed of polenta. I look at it and think "you put blue cheese on mushy corn-bread, and then put nuts on it? This is food?" I put it in my mouth and apologize for doubting. I wonder if I will ever have anything this good again.
As it happens, I will. My entrée arrives – roasted veal over risotto. It looks like nothing I've ever seen – the presentation is glorious, and I've never seen risotto before – and three bites in it qualifies as the finest main course I've ever enjoyed. I nod to Sal, tears in my eyes. Then my Sicilian friend picks up the tab. The tiny flavor of guilt that stems from the thought that I should actually be paying fails completely to mar the experience in the slightest.
Two nights later I invite my friend Mur Lafferty and her friends John and Laura to join me and Sandra for dinner. The experience is similarly wondrous, going on to claim the second-best-meal-of-my-life slot. We get the Gorgonzola and polenta thing again, but we also order a fruit salad in something called a "parm bowl." As it happens, a parm bowl is like a taco salad bowl, only instead of being made out of deep-fried tortilla, it's made out of pan-crisped parmesan.
I vacillate between staring in wonder and eating in absolute delight. Throughout the experience I take great pleasure in the facial expressions worn by Mur, Laura, and especially John – he keeps doing this "ecstasy" thing with his mouth full and his eyes closed.
A good meal is good food, but a great meal is good food shared.
A few weeks after WorldCon I find myself in Atlanta for Dragon*Con. I've gone out with a crowd that includes Mur, Laura, and John, and I'm seated for sushi across from John.
The sushi is quite good. Brilliantly good, in fact. John takes a bite, rolls his eyes back in delight, and then glares at me.
"Damn you, Howard" he says. "Damn you a LOT."
"Wait, what?"
He gestures at his plate, and waves expansively at the restaurant. "I'm eating the best sushi I've had in years, and all I can think of is that I AM NOT EATING AT LA VECCHIA RIGHT NOW."
That has been a hallmark of each and every one of the truly great meals I've had since those nights in Reno – the thought that while this food is awesome, I could really go for some nuts and blue cheese on top of mushy cornbread.

Thanks, Howard. Save me a spot on your dinner dance card for WorldCon. Maybe we'll find San Antonio's equivalent to La Vecchia!
Next Monday: Another author and another meal!
Tags: Eating Authors