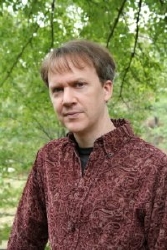 I'm preparing today's installment of EATING AUTHORS more than a week in advance because I'll be on my way back from California when it posts, returning first from a bit of vacation, which will have been followed by the 2013 edition of the Nebula Awards conference. That's going to serve as a segue into today's guest, Howard Andrew Jones, who I first met earlier this year at a different convention.
It happened the way it often does, a bunch of authors hanging about as part of a "meet the pros" event, gathered in an otherwise empty ballroom, drinks in hand, doing that combination of mingling and telling lies that you find at such events. Depending on the venue, you're more apt to spend your time chatting with other authors than fans, and that was the case this time out, which led me to meeting Howard, so it all worked out.
While's he's toiled behind the scenes as the managing editor over at Black Gate since 2004, in more recent years he's been coming on strong as a novelist. 2011 saw the release of his debut novel, The Desert of Souls, which he followed up with sequel The Bones of the Old Ones last December. More is surely coming.

LMS: Welcome, Howard. Let's jump right to it; wold you tell me about your most memorable meal?
HAJ: About eight years ago I travelled with my wife to Toronto for one of her business conferences. Each day I took our kids to various spots around the city while she attended the different panels, then, come evening, all four of us selected a downtown restaurant at random — whatever happened to be in walking distance. We knew nothing about their quality beforehand; we had read no reviews and didn't have any friends who knew anything about nearby Toronto restaurants. And yet, somehow, we never failed to have a fantastic dining experience. Thai one day, Greek the next, and so on (the order blurs so completely that I only recall our final meal was Chinese).
That week was the single most consistently excellent week of dining that I've ever had, even including a week's trip this March to New York City. Given the distance of years, though, I don't recall anything that I ordered in Toronto (save for, unimaginatively, Pad Thai) or the name of the restaurants.
Thankfully I'm no stranger to good food. My wife Shannon has a stressful job in the medical field. She sees and hears a lot of traumatic things, and one way she has learned to deal with them is to throw herself into the kitchen. I routinely act as her sous chef and am usually deeply involved in meal preparation. Because of some drug-crazed deer, though, last Sunday an outstanding meal was concocted without much of my involvement or participation. For once I had no real idea what was happening in the kitchen, and it proved a delightful surprise.
I'd known for years that deer like to eat the leaves from cherry trees because I've been fighting them off of ours. One of the little trees finally outgrew the shabby "tree cage" I'd cobbled together and so I cast the cage aside. The deer had banqueted well in its two day absence. Nothing was left of the new grown leaves but a Mohawk like spur along the top branches they couldn't reach. Some varieties of cherry tree have a sort of LSD-like effect on deer, which is why they never molest the variety closer to the woodline at the back of our property (that's some good stuff, man). Anyway, in an effort to stamp out deer drug dependence I spent Sunday morning, then afternoon, in the garage with some woodscraps, a Howard-powered saw, hammer, and nails, hard at work on a taller, stronger tree cage. I'm by no means an especially gifted carpenter, so it took a while. Shannon, meanwhile, was inside the house working miracles. All I knew for certain was that her menu had something to do with the chicken I'd frozen earlier in the week.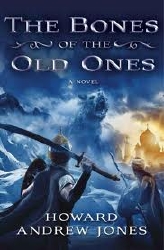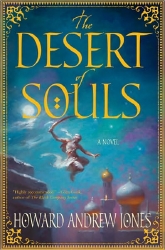 Following my long adventure with the new tree cage I headed out to purchase chicken wire to attach to it while I made the weekly grocery run. Some dried apricots were requested and I dutifully added them to the list. Out I went, thinking more about how best to secure chicken wire to the frame than about dinner. Upon my return two hours later I was greeted with an astonishingly pleasant aroma. All thoughts of chicken wire vanished immediately from my consciousness.
Perhaps you've met people who can hear a melody once and sit down at the keyboard to pick it out. You might even know those who can hear a song once and play it fairly well. I studied music, so I understand how the latter can be done without sorcery or aliens even it still impresses the hell out of me. But I don't quite grok the way my wife improvises amazing recipes. This playing well by ear is the best analogy I have to what Shannon is capable of in the kitchen. Routinely she looks at a recipe and makes adjustments just because something reads or sounds off to her. She is able to blend spices in her head and then set to work like a maestro. That Sunday, like Mozart playing a variation on the theme of Moroccan Spiced Chicken, she'd looked up a recipe then completely changed not only the measurement of ingredients, but subtracted some of those recommended and added others. The scent of this improvised rub baking on the chicken hit me in a delicious wave when I entered the house. It smelled as though I had suddenly walked into a five star Middle-Eastern restaurant.
The dried apricots were applied (chopped into tiny pieces), along with some sliced almonds and a few other ingredients, to dress up what soon proved to be the most excellent couscous I'd ever eaten. The apricots were put to secondary use in one of her mysterious and delicious homemade salad dressings (I never seem to catch what she puts in those because I'm usually busily chopping mint or parsley or something). Last was a sort of dip composed of Greek olives, mint, parsley and, apparently, fairy dust, because it proved an exquisite complement to both the chicken and the couscous.
It was a gourmet meal all around, from the moist and delicious and flavorful chicken to the various accompaniments. And, thanks to the deer, it was a surprise. Well, thanks to my dear, I suppose I should say. Pun intended, but compliment and love sincere.

Thanks, Howard. I've got both deer and cherry trees in my own yard, but my local stores don't seem to stock fairy dust.
Next Monday: Another author and another meal!
Tags: Eating Authors