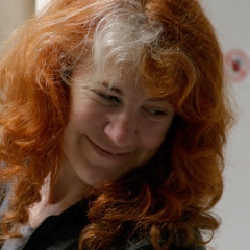 I'm a little under the weather this morning, and so I hope you'll understand if I keep this week's introduction somewhat brief. Our guest today at EATING AUTHORS is Heather McDougal, who had her first book published just a few short weeks ago and so still has that new author shine about her. In addition to her writing, Heather is versed in many crafts including pottery and weaving. She has an MFA in sculpture, which when combined with her skills in welding and glass blowing probably goes a long way to explain her love of clockwork automata. I could say more, but instead I'll direct you to her novel Songs for a Machine Age and let you discover it all yourself.

LMS: Welcome, Heather. I'm always happy to showcase another HRB author here. I'm assuming you know why I asked you here. So tell me, what's your most memorable meal?
NAM: My husband and I were traveling long-term around Southeast Asia, staying in cheap backpackers' accommodations and eating street food. We'd been to China, Thailand, Malaysia, and were just completing two months in Indonesia. Our visas were running out and we had to make a run to Singapore to renew them.
Two Christmases previously, my father-in-law had given us two dinners for two in any restaurant of our choice, except we couldn't use them in Japan (we'd been living in Japan for a year and a half at this point). We'd used one of them up eating at Chez Panisse, which wasn't far from where our families lived, and had been saving the other one for something really extraordinary.
Needless to say, we'd seen the Raffles Hotel on our previous two visits to Singapore. Tall, stately, and white, with tall old-fashioned Colonial style shutters, its immaculate grounds called cooly to you as you walked past in the stifling tropical heat. Big Sikh doormen stood outside the doors in starched white uniforms with wide red sashes and feathers in their turbans, waiting to open the door for you (or turn you away if you looked too scruffy).
In the old days, the Raffles hotel was opened in 1887 and named after Sir Stamford Raffles, the founder of Singapore. It was famous for being a great, if slightly run-down party hotel during the 1920s and 1930s, and there were stories of such things as a tiger being discovered under the pool table. It was historically frequented by an extraordinary collection of riffraff, travelers, explorers, and idle rich, including such people as Ernest Hemingway and Somerset Maugham, but had in the years since then undergone a serious decline, starting with the Japanese occupation, when it was used as a transit point for prisoners of war.
When we got there in 1992 it had just been reopened after a vast restoration program and was newly restored to its former 1914 glory.
We figured it was time to have that meal.
In the bottom of our rucksacks, underneath the grimy shorts and the rapidly-fading t-shirts, the cheap Javanese ikat and the bottles of iodine, we had been saving, for just such an occasion, some "good" clothes: lightweight, unwrinkleable items that went unworn and were therefore unstained and presentable. Black slacks and a button-down shirt for my husband, bright modern minidress for me. We took showers in the cheap hostel where we were rooming with six other roommates in the "expensive" seven-dollar-a-night "aircon" room. I brushed my hair into submission and my husband trimmed his, and we waded through the dust-bunnies and the exhausted travelers crashed out on the "cheap" bunk beds in the hallway, down the smelly tiled stairwell, and out into the street.
We passed the doorman's inspection. Looming over us, eyeing us over his elaborately waxed mustache, he finally bowed and swept open the door, and we entered the tall white lobby, the huge fans whickering overhead, potted palms and chandeliers and the strategically placed flower arrangements adding a sense of history and luxury somewhat like the Titanic.
Inside the restaurant we were waited on by at least four waiters. There was more cutlery and glassware than I was used to, and it was strange being gently fawned upon by so many people. We had a nine-course meal, of which I'm afraid I only remember the champagne, the gleaming silver, the delicate venetian glassware, and the cheese plate, full of cheeses that had been flown in from France that day. Oh, and the amazing hot melting-chocolate cake thingie at the end.
We walked out after paying our $263 (yes! Only that! With wine, no less) so full that we couldn't imagine going home, so we walked through the city in the dark, warm night and sat like beached whales on the grass of the embankment, looking out over the drizzles of light on the water. I've never felt so turgid and so romantic at the same time. But after awhile, we began to get sleepy, so we stood up and walked through the night back to our dust-bunnies and bunk-beds and another four months of traveling through strange lands.
Truly an unforgettable meal.

Thanks, Heather. I don't know if I'll ever get to Singapore (Valerie's a player to go, if we can somehow make the flight shorter), but now I know where I must stop for dinner if I get there. Assuming I can pass inspection at the door.
Next Monday: Another author and another meal!
Tags: Eating Authors