The previous week got away from me, and it's Sunday afternoon as I write this, knowing it will post in a mere 16 hours or so. I somewhat overdid my activity this morning with a 5.5 mile walk and 4,000 words of dictation on the current work in progress, both good things, but now I'm wiped out and flat on my back. My dog had joined me on the bed and is showing his support by snoring (he may actually be asleep or just faking it).
But the show must go on, or in this case, the blog post. So without any pretense at a segue let me introduce you to this week's EATING AUTHORS guest, none other than Glynn Stewart, a writer who boldly crosses the line between Science Fiction and Fantasy and then turns arounds and erases that line before moving on. What do I mean by that? Well, as just one example, in his hugely popular Starship's Mage series (currently at 13 books), FTL is possible, but only because it uses magic! But if you're looking for more traditional, straight up Space Opera, Glynn has you covered there as well. Some of his other series include Scattered Stars and Duchy of Terra, with more political intrigue and alien armadas, pirates and slavers, than you can aim a blaster at.
Glynn lives in Ontario, Canada, where he traded in a life as an accountant for the glorious existence of a full time author. Nothing against accountants, mind you, but I think he made the right choice.

LMS: Welcome, Glynn. Tell me about your most memorable meal.
GS: The dinner we had just after I proposed to my partner. We were staying at the Chateau Lake Louise in the Rocky Mountains, a beautiful faux castle on a lake in the middle of the mountains. Since I'd just proposed and they'd said yes, we decided to celebrate by having dinner at the top tier restaurant in the hotel — expensive, but it was definitely a celebration!
This restaurant, of course, is positioned to give an absolutely incredible view of both Lake Louise itself — a sheet of ice about to break up at the time — and the Rockies. The view, the ambience, everything about the place and the day is spectacularly memorable.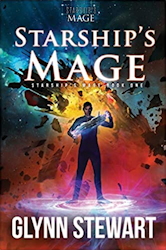 The menu was priced about as you'd expect, with recommended wine pairings that we decided to skip, but we did have the chef's specialties. This was venison for me (which previously I'd only had made/ruined by myself) and a vegetarian tart for my partner. From the conversations we had, the tart was even more of a specialty for the chef than the venison steak. The chef was determined that when a vegetarian or vegan came into their restaurant, they would get a real specialty of the house, not just something thrown in to have a vegan option on the menu!
While we had declined to order the wine list, we had told the servers we were celebrating our engagement. So they surprised us between dinner and dessert with a pair of wine glasses with Prosecco and blackcurrant liqueur on the house! While this was delightful and tasty, the most memorable part was that they had, entirely accidentally, perfectly matched the tone and color of the fire opal in the engagement ring!
We've moved to the other side of the country since and haven't managed to make it back to Lake Louise at all, but we still have fond memories of the hotel and especially of that dinner!

Thanks, Glynn. And kudos to that chef for their commitment to providing a top of the line meal to your non-meat-eating partner. Surely that was an omen that the relationship was destined for greatness.
Next Monday: Another author and another meal!

NB: links to authors and books here are included as part of an Amazon Affiliate account. If you follow any of them and ultimately make a purchase Amazon rewards me with a few pennies of every dollar.
Want to never miss an installment of EATING AUTHORS?
Click this link and sign up for a weekly email to bring you here as soon as they post.
Tags: Eating Authors