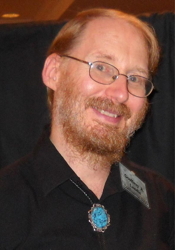 I'm writing this a bit further in advance than is my usual routine, because by the time it posts I'll have been away at this year's WorldCon for the past week, and I don't expect to return home until tomorrow. But neither rain, nor sleet, nor excessive con-going activities can stop the weekly juggernaut that is EATING AUTHORS, and so here we are.
This week's guest is the real deal; Geoffrey A. Landis isn't just another SF author, he's a card-carrying NASA scientist and is actively contributing to the work that will carry us to Mars and beyond! The accolades he's received from the scientific community are paralleled by those in the SF community, including the Nebula Award, two Hugo Awards, both the Locus and Theodore Sturgeon Awards, as well as the Robert A. Heinlein Award "for outstanding published works in science fiction and technical writings that inspire the human exploration of space" which neatly bridges his two worlds.
If hard SF is your thing, you can't do much better than reading Geoff's stuff!

LMS: Welcome, Geoffrey, please take a moment and tell the good folks reading this about your most memorable meal.
GAL: It's hard to come up with a single most memorable meal, since there are so many to choose from. Meals, for humans, are often a social activity, and many of my most memorable meals are memorable for the company, and not for the food at all
One memorable meal I can recall was after the 2007 Worldcon in Yokohama, Japan. Mary and I were walking the Philosopher's path in Kyoto, and decided we needed to get some lunch. We walked a few blocks west and found an unremarkable small shop, barely more than a street-vendor, but with tables set out to eat at; so we walked in and sat down. We discovered that the menu had just two items, and with some examination we decoded these as "big" (大) or "little" (小). Whatever the shop was, it only sold one thing— so we figured it must be good! Also, we were hungry. We decided to get an order of "big".
What arrived was a pan with eighteen golden fried spheres, about the size of ping-pong balls, crispy on the outside, softer on the inside. After eating one or two, I looked more carefully inside one, and said, "hey, there are tentacles in these!"
Only somewhat later did we discover that takoyaki—fried octopus balls— was considered a specialty of Kyoto. The picture of a smiling octopus on the outside of the restaurant might have been a clue.
Pretty good, though! It's interesting, sometimes, what you get when you don't know what you're going to get.

Thanks, Geoffrey. That sense of mystery and uncertainty is key to novel dining, and a big part of why I'm a fan of both tempura and bridge mix (though not at the same time).
Next Monday: Another author and another meal!
Tags: Eating Authors