Hello and welcome to another installment of Eating Authors, where every Monday I ask a different author to talk about some fondly remembered bit of eating. If you came here because of a Google search involving literary cannibalism or recipes for writer tartare you're apt to be disappointed.
I'm back from the turmoils and triumphs that were this year's Worldcon, and it seems only appropriate that my guest this week is Genevieve Valentine whose novel, Mechanique: A Tale of the Circus Tresaulti, was placed in my hands as I was leaving last year's Worldcon in Reno, Nevada. If you're not familiar with this work and need another push to go pick up a copy, allow me to mention that it was nominated for a Nebula Award and won the 2012 Crawford Award. Her short fiction has garnered a good deal of attention as well, including nominations for the World Fantasy and Shirley Jackson awards.
Earlier this year Genevieve was at the center of some strenuous discussion involving harassment and safety at conventions, and my only comments on that topic here will be to applaud her for her strength of character in coming forward and to express my hope that our community wakes up and not only acknowledges the true scope of the problem but stops putting up with it.
But to me, she will probably always be, first and foremost, one of the authors of Geek Wisdom, a magnificently fun and funny book that was long overdue (though I don't think there's enough Klingon in it).


LMS: Welcome, Genevieve. Would you care to tell me a story about your most memorable meal?
GV: A long time ago, I met a friend from the internet.
It was the first time I'd traveled so far to met someone. Despite the usual worries (and a friend at the other end of the phone standing by on Stranger Danger duty), we'd been in contact for a long time, had some mutual real-life friends, and enough Lord of the Rings feelings that I hoped we'd have enough to talk about. (Neither of us will ever forgive how The Two Towers turned Faramir into a moustache-twirling villain one monologue away from strapping the Hobbits to the railroad tracks, and that's probably good for at least ten minutes, right?)
I went up to New York for the weekend, and at the appointed time she met me in the hotel lobby. After five minutes of increasingly animated conversation, she said, "This is going so well I think I want to take you to Tea and Sympathy."
It sounded like a rite of passage; it pretty much was.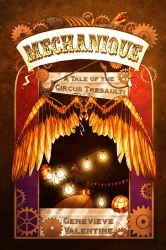 The friendship is still going strong. The restaurant is, too. I am trying, single-handedly, to make sure it never closes.
I've lived in the city for almost a decade, and Tea and Sympathy has become my restaurant mainstay. It's a favorite place to meet old friends, and a favorite place to take new ones. (Somehow, it's never occurred to me to go there alone; it is emphatically in the category of places you go when you want to have a nice long talk and share a sticky toffee pudding with someone.)
The first time I ever went, I had Welsh rarebit – spicy mustard and cheese melted on seven-grain toast, served with thick slices of tomato and tart pickled relish on the side. I can count on one hand the number of times I've ordered something else, in all the times I've gone. (I'm a little more fickle with desserts, but how could you not be, when they offer scones, rhubarb crumble, and the sticky toffee pudding date-and-what-I-am-assuming-is-cocaine cake, smothered in custard? But the rarebit – the rarebit never changes.)
While I'd like to pretend I'm a more adventurous eater than that, I think it's just faster to admit I'm a creature of habit, and besides being tasty as hell, it's pretty much the ideal comfort food.
But it's also a food tied up in memories, and no matter how stressed I am or how long it's been, there's nothing like the smell of a pot of black tea and a bite of Welsh rarebit to make me feel that I'm with friends, and things are going well.

Thanks, Genevieve. I have to confess, I've never had Welsh rarebit. Every time I've come close to ordering it, I flash back to some old Bugs Bunny cartoon and my eyes slide to something else on the menu.
Next Monday: Another author and another meal!
Tags: Eating Authors