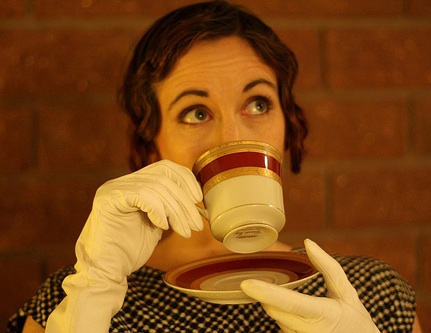 Welcome. You're just in time for a special tea-drinking edition of the blog feature that asks SF & F authors to recall memories of their favorite gustatory experiences.
Dropping in this week is Gail Carriger, best selling author of The Parasol Protectorate series (Soulless, Changeless, Blameless, Heartless, and launching today, Timeless), a refreshingly charming take on the current trend of supernatural fiction.

LMS: Much like the Amazing Conroy, your protagonist, Alexia Tarabotti, enjoys a fine meal. And I suspect you do too. So tell me, what's your best, most memorable meal?
GC: I love food so this is a difficult question for me to answer.
I believe the single best meal I ever ate was in Monterosso al Mare, (one of the five tiny towns that make up Cinque Terre on the Italian Riveria). I was there on the four day break we got in the middle of excavation season (July 1995) with three other archaeology undergraduates. We wandered into this little restaurant, I don't recall the name. All I remember is we walked down, so the windows were at street level and we got a view of everyone's shoes walking past. We started with prosciutto e melone (which was more amazing than any before or since) and then we ate this risotto seafood dish ~ fruite de mar. It was as if they had taken a net and scraped it across the sea floor ~ crayfish, clams, muscles, oysters, white fish, salmon, and fresh veggies scattered over this amazing rice. The seafood was cooked perfectly, fresh and glistening. The onion and tomato rice was gooey in the center and backed crisp and crunchy on the top. We had a bottle of cheep Chianti to go with… magic.