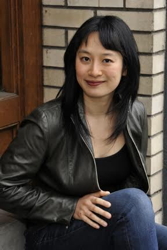 Welcome to the first Monday in April, which means that the Nebula voting is all over and now a small group of authors can only sit and wait for the results (well, sure, we can write too, and we should, but you know what I mean). I hate waiting, but in a show of solidarity (or something or other), this week's guest is Fonda Lee, whose debut novel Zeroboxer put her on the short list for the Norton Award (alongside past EATING AUTHORS visitors like Fran Wilde and Tina Connolly). Presumably, she's waiting too.
Fonda is a transplanted Canadian who now resides in Portland, OR. She's following up on the promise of her first novel with a second (still unnamed) YA book in which a teenaged, bio-enhanced soldier attempts to save the world, all while combatting an extremist group striving to overthrow the alien regime governing Earth. You know, as one does. It's already been acquired by Scholastic; mark it on your calendar to get a copy in 2017.

LMS: Welcome, Fonda. So, let's talk about best meals. What's your most memorable?
FL: One of the best meals I've ever had was in Peru last year at Astrid Y Gastón in Lima. Chef Gastón Acurio is the undisputed king of Peruvian cuisine and his flagship restaurant is regularly mentioned as one of the top restaurants in the world. We booked our reservations about three months in advance to ensure we got a coveted dining spot.
A little context here: a few days ago, we (my husband and I, my brother and his wife, and another couple we were traveling with) had hiked the Inca Trail to Macchu Picchu. We'd already spent four days on the most physically grueling and rewarding part of our vacation, trekking through the breathtaking scenery of the Andes, visiting jaw-dropping Inca ruins, and…eating like kings. Yes, some of the best eating I'd already done was in campsites after eight to twelve hours of mountain hiking at elevations of up to 14,000 feet above sea level.
You can only hike the Inca Trail with local tour operators and the company we traveled with, Llama Path, equipped us with a team of a dozen porters, consisting of men between the ages of twenty and fifty(!) who, every morning, packed up our entire campsite, tossed it over their backs, and raced up the mountain, passing us with ease up and down the steep mountain passes. By the time we arrived exhausted at the evening site, they had already set up camp and cooked us an amazing six course meal using a portable stove and, I can only surmise, magic. At one point, they even baked us a cake. On the top of a freaking mountain. How? I do not know. Here I was, relentlessly burning calories every day but putting it straight back on at dinner.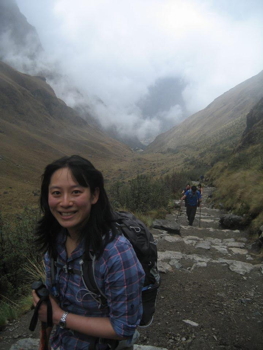 By the time we came to Astrid Y Gastón, we'd already had some wonderful meals, not just on the trek but in Cusco and Lima as well. Peru has a rich and multicultural culinary history that does amazing things with corn, quinoa, chili peppers, abundant fresh seafood, native fruits and vegetables like lacuma and cherimoya, and meat from alpaca and cuy (guinea pig).
The tasting menu at Astrid Y Gastón was a display of perfect execution. Cebiche for the first course, and causa (potato dumpling) for the second. Sea scallops dressed with cauliflower prepared three ways: shaved, pureed, and roasted. Delectable portions of prawn, octopus, and fish. A palpable sense of deliberation and art in every preparation, the same joy that a writer finds in an exquisitely crafted line of prose. What made the meal especially memorable for me wasn't just the food, but the fact that we were sharing it with my brother and sister-in-law (who live in Canada and whom I see far too infrequently) at the tail end of what had been such a rewarding two weeks of travel. I'd go back to Peru in an instant for the food alone.

Thanks, Fonda. That meal sounds exquisite, though I doubt I could handle the hike to get to it.
Next Monday: Another author and another meal!
Tags: Eating Authors