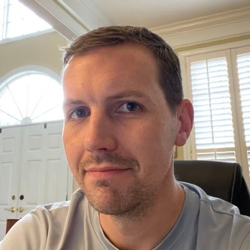 So that was May. Phew! Longest ten week month of my life, and all in all, I had it a lot easier than most. I didn't mind the sheltering-in-place or wearing a mask when I needed to venture out for groceries. Those seemed like a very reasonable trade in exchange for not exposing my shiny new (and ill-equipped) immune system to potentially life-ending viruses. No, what made it hard was seeing how much so many people I know have been hurting. As I mentioned some weeks back, a side effect of my cancer journey has been a massive increase in empathy, the timing of which kind of sucks. Far better to be empathetic when it's all birthday parties and book releases and graduations.
Last month also included the difficult decision to cancel the in-person, 27th annual conference of the Klingon Language Institute which had been scheduled for late July. We'll be putting together a virtual conference, and that will have the added benefit of including folks across various oceans who wouldn't have otherwise been able to attend, but I will still miss gathering together as we have for so many years. Also, there was a Waffle House just down the street from the conference hotel.
Which is by no means a proper segue to introduce Eric Warren, this week's EATING AUTHORS guest, but c'mon, citing Waffle House is like an out-of-jail free card!
But let's get back to Eric. I connected with him through IASFA (Independent Alliance of Science Fiction and Fantasy Authors, the organizational brainchild of Craig Martelle), where I learned that he, like me, spent his youth inventing stories but set that all to the side when it came time to assume the mantle of adult responsibilities. After risking his soul in the wilds of traditional business life, Eric found his way back to writing and his original and true calling. See? Even our real life stories can have happy endings.
Eric is the author of the nine volume space opera series Infinity's End, as well as the distopian YA series Quantum Gate.
Like many indie authors, Eric knows you have to go that extra distance to acquire readers and offers a free sample of his work (the proverbial 'reader magnet'). So before you read about his most memorable meal, here's a link to Caspian's Gambit in the hopes of getting you hooked on that nine book series.

LMS: Welcome, Eric. What stands out as your most memorable meal?
EW: I grew up in the restaurant industry, the third generation in an established line of restauranteurs. My entire young life revolved around the family restaurant in some fashion or another, and so I grew up taking good food for granted. I began working in that same restaurant at the age of thirteen, my father constantly reminding me as long as I knew how to cook, I would never be out of a job. It was a place of comfort and security and it was a guaranteed future.
So I think it's ironic then, that my most memorable meal had nothing to do with that place, or that life. In fact, it was the complete opposite.
In mid-2005 I had been out of college a few years and was patiently awaiting my now wife's graduation. We had both grown up in the same small town in the mountains of Virginia, gone to the same college half an hour away from our homes, and had been exposed to the same groups of people for most of our lives. That year we'd decided we'd had enough. With no guarantees of success ahead of us, we packed our bags and drove across the country to California, to see if we could make it on our own. It took us five days and when we arrived there was a mix-up with our apartment. By the time we finally did get everything settled, we were exhausted. The kitchen couldn't have been more than a hundred square feet in size, but after a grocery run, we made PB&J sandwiches and macaroni & cheese for dinner. Perhaps it was because we were so physically and mentally tired that the food tasted so good, or maybe it was because we could relish the fact we were truly on our own, cut off from everyone and everything we'd ever known, that I can still remember the taste of it today. The following day we began hunting for jobs.
There was a time when I thought my destiny was tethered to that family restaurant and no amount of effort would ever break that connection. Fortunately, I found destiny is what you make of it, and sometimes you have to go with the risky option in order to get what you want out of life.

Thanks, Eric. Never underestimate the power of comfort food. Both Mac & Cheese and PB&J are among the high priests of that temple, and they almost always provide us shelter from life's storms.
Next Monday: Another author and another meal!

NB: links to authors and books here are included as part of an Amazon Affiliate account. If you follow any of them and ultimately make a purchase Amazon rewards me with a few pennies of every dollar.
Want to never miss an installment of EATING AUTHORS?
Click this link and sign up for a weekly email to bring you here as soon as they post.
Tags: Eating Authors