Welcome to the Boxing Day edition of Eating Authors, the blog feature that asks genre writers to share tales of their most memorable meals. With us today is Elaine Isaak, an author I've had the great pleasure to know for years and years, and to have published in the pages of Prime Codex. She graced the virtual pages of this blog for a quick Q&A session nearly a year ago so to recap let me tell you that she is the author of The Singer's Crown in 2005, and sequels The Eunuch's Heir in 2006, and The Bastard Queen in 2010. In 2011 she began a new dark historical fantasy series with DAW books, but these are under a pseudonym and she's still not letting the name leak.

LMS: Elaine, since you won't reveal your alter ego to us, we'll just have to settle instead for a recounting of your most memorable meal. How did it come about?
EI: I took a research trip to England a few years ago, and we booked a night at a castle outside of Tiverton. (I'm a fantasy writer–how could I resist?). But the two pubs at the end of the street–the only restaurants for miles around–were both booked for weddings! So we made the drive into Tiverton proper. It was Sunday evening, and most places were closed already.
We passed a restaurant called Mad Hatters where a man was outside, taking down the umbrellas at patio tables, so we called out to him. He said he was closing, but paused and asked, "Are you Americans?"
We said yes, thinking he was taking pity on the starving tourists. "Come in, come in!" he told us, and shot up the stairs to warn his wife (the cook) that they had more patrons. It turned out that he had been in the navy, and served in a liason program which posted him at an American base for two years, and he loved all things American!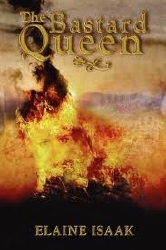 That start in itself would have been a lovely experience — even if the food wasn't excellent! I ordered the lamb shank, which came with a heaping plate of roasted veggies as well (leeks, parsnips). Through much of the meal, the proprietor took a seat nearby and chatted about all sorts of topics (including his somewhat disgruntled wife, who appeared only at the end, after handling the rest of the kitchen business). For dessert, he brought out a fabulous slab of cake with warm pudding to drizzle on top.
Great food, a pleasant atmosphere, and an unexpected personal touch — as if doing research in England weren't enough. I am delighted to find them on-line at www.madhatterrestaurant.co.uk/about.html

Thank you, Elaine. Not only a memorable meal, but a potentially tax-deductable one as well!
Next Monday: Another author and another meal!
Tags: Eating Authors