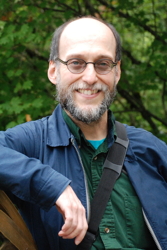 I generally attend several conventions a year, and as I've been doing this whole writer thing for a while now, I've had opportunity to meet a lot of authors. Some I see maybe once a year, on a panel or during a party. Some I manage to enjoy the occasional meal with here or there. And every now and then circumstances come along that involve an extended time with one or more writers. This week's EATING AUTHORS guest and I took that to new levels last month, as we shared a condo for a week of intense critique and culinary exploration as part of the Rio Hondo writers' retreat. But, while it was memorable for me, I don't think that's something that will be showing up on David D. Levine's wikipedia page. And besides, what happens in New Mexico stays in New Mexico, right?
More notably, David's been shortlisted for the Campbell, Nebula, and Sturgeon Awards for his short fiction, and he's taken home a Hugo. Ask most anyone, and they'll tell you he's an incredible short story writer. Which makes me all the more excited that his first novel, Arabella of Mars, comes out tomorrow from Tor Books. It reminded a great deal of those old Jack Vance planetary romances, updated to modern sensibilities, and then thrust backward into the world of steampunk. So, yeah, go get a copy, you'll like it.

LMS: Welcome, David. What can you tell me about your most memorable meal?
DDL: I greatly enjoy travel, and eating the unusual things to be found around the world. I'm actually a fairly selective eater, but when in another country I'm a lot more likely to order something I'd never touch at home — or, as I put it in Japan, "to eat the thing with eyes." I had a lot of memorable meals to choose from for this essay, but I think the most memorable one of all took place in Thailand in 2007.
I was in Thailand on business, but my wife was along; it was a junket to thank the top engineering employees in my company for their efforts, and we were staying at my employer's expense at a luxurious resort on the shore of the Indian Ocean near Pukhet. Most meals were included — the breakfast buffet was amazing, featuring a complete range of dishes from Japan and China as well as Europe, Britain, and the United States — but on our first night there we were on our own for dinner. Tired and jet-lagged, we wandered down the beach to the Lotus, one of the many oceanfront restaurants nearby, passing massage huts and rows of beach chairs on the way.
Our table was right on the beach. I mean that it stood in the sand, with tiki lamps thrust into the sand nearby for illumination. The sand was soft and fine and smooth, but made moving the heavy wooden chairs very difficult. Service was friendly and attentive, and they had an English menu. This was helpful, because the staff's English was extremely limited.
Between the menu and our phrasebook we managed to sort out an order and communicate it to the waiter: red curry duck, larb moo (spicy pork salad), "local vegetable" with dried shrimp, and grilled tiger prawns in tamarind sauce. How many prawns did we want? We looked at each other. Four prawns for the two of us should be enough, we thought, and held up four fingers.
The food came quickly and was amazingly delicious, but the prawns were a real surprise. They came butterflied, split in half and charcoal-grilled, and were the size of small lobsters. The four of them completely filled a large platter, hanging over both ends of it. Each one was nearly half a pound of meat. But we tucked in — we pretended it was an Amazing Race food challenge — and enjoyed them tremendously.
And then came the bill. The prawns, it turned out, were priced per 100g, and — even as cheap as everything was in Thailand at that time — the price of that meal came to just less than our entire Thai cash reserves. So we needed to hit an ATM the next day. Which was a whole 'nother adventure…

Thanks, David. I wonder if I'll ever have an opportunity to use the phrase "Thai cash reserves." And if so, will prawns be involved?
Next Monday: Another author and another meal!
Tags: Eating Authors