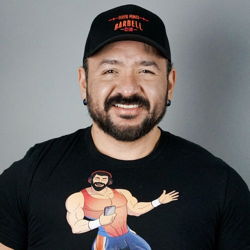 I'm rather pleased with myself. I've been getting huge amounts of work done this year. It still croggles my mind when I think of it, the ease with which the words have been coming and across a range of different projects. That may be the key for me, taking a very well monitored approach to how I'm spinning so many plates at once as opposed to past efforts of just spinning them and dashing back and forth as needed. This method has more accountability and so far it seems to be working.
Which has almost nothing to do with this week's EATING AUTHORS guest, except to note that Cesar Torres keeps himself plenty busy with different projects that range from his series The Coil (planned at nine volumes), his How to Kill a Superhero series (four books, under the pseudonym of Pablo Greene), his documentary on Quads, Chicago's famous bodybuilding gym, and his line of fitness wear.
Cesar was born in Mexico City but has lived in New York, Dublin, Osaka, and Berlin. He now makes his home in Chicago. Curiously, Pablo Greene was born in Buenos Aires and now lives in New Orleans. I'm not sure how he manages this trick, but it could explain why you never see them together.
If you like reading about dystopian futures, social justice, and the Aztec pantheon (and c'mon, who doesn't?) then you should be reading Cesar's work.

LMS: Welcome, Cesar. What's the best meal you remember?
CT: In my all my novels, I explore the nature of time — how time works, which direction it moves in, and its non-linearity. That means that the best meal I remember having is one that explores the nature of time. The best meal is the one that my family has been making together every Christmas across decades and featuring a very specific dish.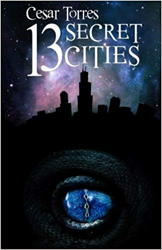 This meal has been prepared primarily in two cities: in Mexico City, the amazing capital of Mexico. Mexico City (or CDMX as Mexican refer to it nowadays) is where I was born, and where my family is from. It was there that I watched my mother cook bacalao as a traditional Christmas dish since I was just a boy. Bacalao is a regional specialty for Christmas in Mexico City. It consists of Mediterranean salted cod that is prepared with rich, high-quality olive oil, tomatoes, lots of garlic, potatoes, parsley, olives and garnishes with yellow peppers for acidity and balance. It's served on bolillos, which are small baguettes you can find at Mexican bakeries.
The taste of bacalao is rich, savory, like silk and ocean on the tastebuds. Bacalo is also a dish that defies the limitations of time. It is originally an import from the Mediterranean region, and the Spaniards brought it to the Americas when they colonized Mesoamerica. This holiday dish speaks volumes about the joys and the horrrors of human history. It's both a reminder of the brutal and violent nature of Mexico's colonized past, but also a celebratrion of mestizo culture, which is what makes up the Mexican national identity so vibrant and creative.
Bacalao brings to mind very specific memories of the Christmas Eves I lived in Mexico City with my parents and two brothers, in a setting that was focused on the religious aspect of the holiday and the coming together of families. My parents brought the tradition of Bacalao with them to Chicago when we moved here in the 1980's. Our new setting in the United States also introduced new variables: The labor-intensive dish eventually recruited my father into the kitchen. He's not afraid of cooking, but in our family my mother has historically been the one that cooks. But soon, my father took a special interest in the preparation of bacalao each Christmas. Nowadays, my father joins my mother with enthusiasm (and a somewhat alarming eagerness) to chop and prep the many ingredients, to de-salt the cod, and to simmer carefully for hours to get the right flavors out of the dish.
Time is a funny thing, and human memory is even funnier. Neither is fixed, and both flow like water. And my memories of bacalao at Christmas flow across many decades. Some years when we cooked it, the weather was mild and sunny, because we lived in CDMX. Other years, snow storms raged outside out house in Chicago. Lately, as climate change alters weather patterns, we have experienced warm weather without snow in Chicago. But one thing remains constant: Bacalao seals a family experience at my house. My parents are both professionals with advanced degrees, and that means that our conversations wander into areas of secular intellectualism, as well as those of popular culture and music, and then back again to topics about theology and the nature of god, even if as adults, parents and children have each diverged in their spiritual paths and identities. This meal that repeats every year is like a tunnel that bores through the walls of time and connects my family. It's a magical feat. On the lips, bacalao is soft and rich, and the crisp outer edge of the baguette is the perfect vehicle for its magnificent flavor. As we share that meal, I am reminded each year of how much I have to be grateful for in my life. Our Christmas dinner table encourages book reading, the arts, the free nature of the human spirit, and although my parents practice a devout Catholicism, the meal encourages a secular freedom among our family that leads to a single place in the universe that is timeless: love.

Thanks, Cesar. I've written about time-traveling cod myself, and yours sounds so much better. Set a place for me next Christmas?
Next Monday: Another author and another meal!
Want to never miss an installment of EATING AUTHORS?
Click this link and sign up for a weekly email to bring you here as soon as they post.
Tags: Eating Authors