I have a crazy crazy week ahead, culminating with me spending the second half of it down in Richmond, VA as a GOH at RavenCon. But unless you're going, you probably don't care about that; you're hear for authors and what they eat, so let's get to that.
Okay, time for full disclosure. This week's EATING AUTHORS guest, Cat Rambo and I have a history. Her first collection, Eyes Like Sky and Coal and Moonlight, was the first collection I published with my small press, Paper Golem.
As often happens with firsts, I made a lot of mistakes. Anything that went wrong with the volume belongs on my plate (regardless of what my co-editor, Michael Livingston may say). Time, it is said, heals all wounds, and I think Cat may have forgiven me by now. I hope so, because she's currently running unopposed for president of the SFWA!
Anyway, in the course of producing that collection I had the privilege of reading many short stories Cat had created in the Tabat universe. Which is why I'm positively squeeing that her novel, Beasts of Tabat, came out earlier this month. And if you're making similar noises, I need to tell you that this is just the first volume of The Tabat Quartet. So, warn your neighbors, there's more squeeing ahead!

LMS: Welcome, Cat. I'm very happy to have you here and to pimp your novel. But, we have to pay the rent, so please, wax nostalgic about your most memorable meal.
CR: The best meal I remember eating was during graduate school days while I was studying writing at Johns Hopkins. The class had somewhat naturally separated into smaller camps along the lines of fiction writers, poets, and (the two) science writers, but meals seemed to pull us together, and a number of them took place in the three story rowhouse my boyfriend and I rented, subletting rooms out to a poet, a beleaguered English PhD student and later, my brother.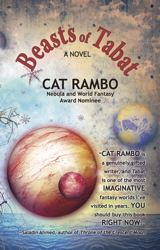 We did plenty of potlucks, but many of them took the form of X-offs: dessert-offs, chili-offs, soup-offs. I remember an early one featuring only desserts, which took place in my friend Heid's apartment, with many of us groaning on the floor afterwards, stuporous with sugar and hearing the noise from the Gilman Deli and Calvert Street floating up from below. Afterwards we did play readings, usually Shakespearean comedies.
My favorite meal from that entire series though? The entree was a white lasagna, accompanied by a Boordy Vineyards white wine, I believe, but the best moment was Grace Paley at the dinner table, taking a second helping of my sweet potato pie, topped with creme fraiche, and telling us that if her dentures shot out of her mouth at some point during the meal, we were under no circumstances to pretend as though it hadn't happened. I got to interact with a number of greats during my Hopkins days — Paley will always be my favorite, and that meal will always make me smile.

Thanks, Cat. Normally, when someone says "sweet potato pie," I picture zombies toiling in the fields (not unlike the golems from your story "Sugar"). Now I'm going to have Grace Paley added in there somewhere. Weird.
Next Monday: Another author and another meal!
Tags: Eating Authors