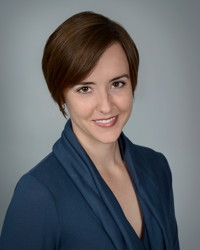 Welcome to a new Month. I haven't done a serious, scientific survey, but my impression is that we'll all pretty happy to have February behind us. Sure, some pretty wondrous things happened for some of us, but that joy hit the heights that it did because of the contrast effect provided by record cold and snow. March, with its promise of a vernal equinox on the 20th, ought to be a considerable improvement, at least weatherwise.
As has long been observed, everyone talks about the weather but no one does a damn thing about it; this blog is no exception. Instead, let's talk about this week's guest, Carrie Patel.
Carrie's first novel, The Buried Life, comes out from the fine folks at Angry Robot tomorrow. But wait, there's more! The sequel, Cities and Thrones, is already available for pre-order and is scheduled for release a mere four months from now!

LMS: WELCOME AND QUESTION
CP: While I've been blessed with a diverse palate as well as opportunities to enjoy many types of cuisine, I'd be remiss if I didn't mention the flavors of my motherland. I've lived most of my life in Texas, a state with a rich culinary tradition that includes steak, chicken-fried steak, fajitas, roadhouse burgers, and virtually any other variety of red meat imaginable. Barbecue is also kind of a big thing there, and it shouldn't be any surprise that the prime feature of Texas barbecue is beef brisket.
Nor should it be any surprise that one of my most memorable dining experiences features this fine staple. So, in the proud tradition of Texas excess, I'm going to highlight a series of meals rather than a single dinner.
Every few years, Texas Monthly publishes a list of the fifty best barbecue joints in the state. Late in the spring of 2010, one of my husband's college buddies rounded up seven of us and mapped out a weekend trip to "flavor town," with visits planned to the top five sites.
Needless to say, my husband has long since abandoned the vegetarianism of his childhood.

We began Friday with a visit to Luling City Market, which was a mainstay of many family trips to New Braunfels. It was as memorable to me for the "watermelon thump queen" posters that papered the restaurant as it was for the brisket and sausage. But the barbecue was as good as I'd remembered, and the tangy, vinegar-based sauce was a group favorite and a welcome departure from the sweeter, heavier sauces that dominate much of Texas barbecue.
For dinner, we visited Smitty's Market in Lockhart, Texas. The fatty brisket and the stifling heat from the smoker in the room next to the tables pushed it to the bottom of my list, but it was a good jumping-off point for a night of music and margaritas in nearby Austin.
It was also suitable preparation for our Saturday morning breakfast.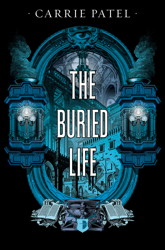 Snow's was at the top of the Texas Monthly list, and our organizers had hyped it over the much-vaunted Austin favorite, Franklin Barbecue. If nothing else, its operating hours made it something of an enigma: the restaurant only operates on Saturdays, and it's open from 8 AM until the meat runs out. By all accounts, the meat runs out early.
We left Austin for Snow's BBQ in Lexington, which was about an hour away. We arrived not long after nine, and there was already a line that stretched out of a little double-wide and alongside a row of smokers situated under a corrugated tin awning. Early birds were noshing at tables outside, take-away bags by one hand and bottles of Lone Star by the other.
By the time we reached the head of the line, Snow's was already out of chicken, but not out of its famous beef brisket. The meal was well worth the wait. The beef was smoked to a pleasant crisp on the outside, yet the slices came apart at the gentle pressure of a butter knife. The meat was rich but tender and moist without grease. It was easily the best brisket I've ever had.
The only downside to having Snow's for breakfast was that nothing else was likely to measure up. It was fortunate, then, that our next stop, Louie Mueller's in Taylor, brought us something a little different.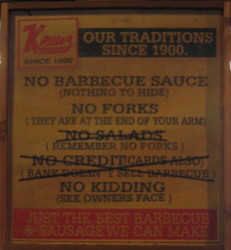 Louie Mueller's is situated in a building with the wide dimensions and folksy charm of a barn. Neon signs flash between pictures of awards and commendations by the likes of Guy Fieri. The brisket and ribs come with a thickly peppered crust and a pleasantly thick texture. We took our haul—which included a single beef rib that was a meal in itself—to the Three Dudes Winery, a quiet little place that we'd never heard of but that had the advantage of proximity. We enjoyed our second-to-last barbecue meal on a patio overlooking the vineyards, enjoying wine that was a little on the sweet side but welcome nonetheless.
For our last meal, we returned to Lockhart and picked up barbecue from Kreuz Market, locally known as the "church of Kreuz." While the meat was better than the offering at Smitty's, its nearby rival, many of us had reached our saturation point after five straight meals of barbecue. By the time we got around to actually ranking the five different joints on our own, we could agree that Snow's served the best brisket, Luling City Market won on sauce, and the rest was generally a cholesterol-infused blur.
Also, it was the best kind of adventure to share with friends.

Thanks, Carrie. I now realize that the 2nd thing I do when I get my time machine working is to go back into the past and make sure I become one of your husband's college buddies.
Next Monday: Another author and another meal!
Tags: Eating Authors