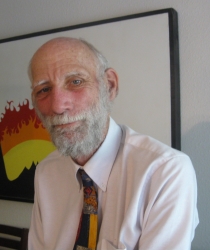 Greetings! If it's Monday, then this must be the latest installment of Eating Authors, my weekly blog feature where I ask authors about their favorite meals.
Today's gourmand is none other than Mr. Magic Realism himself, Bruce Taylor. I've had the privilege of publishing one of Bruce's novellas in the first Alembical volume. Bruce is a Seattle native and the founder of the Magic Realist Writers International Network.
Bruce's work has been collected in Kafka's Uncle And Other Strange Tales, Edward: Dancing on the Edge of Infinity, Mr. Magic Realism, and Metamorphosis Blues. As a leading proponent for Magic Realism he co-edited the anthology Like Water for Quarks.

LMS: Bruce, tell me a story about your most memorable meal.
BT: Roberta Gregory and I looked at the menu. Actually, stared would have been more accurate.
"Holy cats, "I said, "this is amazing!"
"It all looks so good," Roberta said, "How do we choose?" She read from the menu:
"'Beef Ragout–moist tender beef and vegetables slowly simmered with natural pan gravy. A glass of cabernet is suggested with this meal.' Um— "
"Geeze, and then there's the lamb shank — 'Braised in its own natural juices and delicately seasoned with honey and lemon. We recommend a glass of merlot with this selection.' OK—and we have 'Seared Farm Raised Catfish Filet, Cheese Ravioli, Stone Fried Roasted Chicken Pizza. Crab Louie Salad with shrimp and with our choice of two of the following—baked potato, whipped mashed potatoes, rice pilaf, tonight's vegetables."
"Well," Roberta said, studying the menu, "the Seafood Crab Louie salad looks great—"
"Okay — I'll get the lamb shank."
The waiter came back with rolls and warm chunks of bread. He was a robust fellow, gray haired and with a warm smile as if really liked what he was doing. "Good evening and welcome. What would you nice folks like this evening?" he said.
We placed our order.
"Coffee? Tea? Soft drinks? Wine?"
"Diet Coke and two coffees," I said.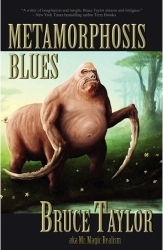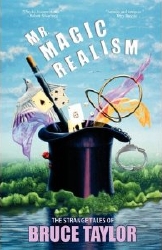 The waiter left only to return in seconds with the beverages and seemingly just a few minutes later with the main course.
Roberta smiled then said to the waiter, "Sure can't complain about the service."
The waiter laughed, as he placed the dishes on the table. "Now that's what we like to hear."
And we began our meal.
One bite of the lamb shank and I said, "Unbelievable. I've never had meat feel like it was melting in my mouth. Here—" I pushed the plate toward her. "You gotta try some."
She did. "Wonderful," she said. "Here. Try some of my salad."
Needless to say—
She laughed, got out her digital camera and took my picture. "Had to get your picture! You look incredulous."
"I am," I said, "I wasn't expecting this!"
We continued our meal. The rice pilaf was great and the salad of sliced cucumbers, strawberries, oranges and eggs on greens was fresh; the shrimp large, crunchy, tasty, and just as good as everything else.
And the desert?
Oh, wow—
Roberta had the Mississippi Mud Cake ('Coffee bathed chunks of chocolate cake and rich chocolate ganache drizzled with rivers of milk and dark chocolate.')
And I had the diet cheesecake but, avoiding sugar, declined the topping ('Complementing your dessert with any combination of strawberry topping, whipped cream or chocolate sauce.')
The waiter returned. "Everything satisfactory?" he said, as he began to clear away the dishes.
I shook my head. "Uh — try amazing. That was really – really good."
Roberta grinned. "Delicious."
The waiter just smiled.
We paid our bill, giving our waiter a 20% percent tip not only for great service but an absolutely fabulous meal. And after dinner, we just sat, enjoying abundantly supplied delicious coffee as we admired the late afternoon, unfolding panorama of Puget Sound, from our comfortable seats in the lounge car on the Amtrak Coast Starlight, on our way back to Seattle.

Thanks, Bruce, it sounds like a magical meal.
Next Monday: Another author and another meal!
Tags: Eating Authors