As the Festival of Lights comes to an end, I'm feeling very blessed. The year is winding down and despite more than a few troublesome bits, I'm still here and the universe still smiles upon me. A recent reminder of that was last week's return of my tablet which went missing when I passed through TSA on my way home from a conference in Las Vegas a month ago. Perhaps most incredibly, the device still had about ten percent power. There's an obvious metaphor tying back to Hanukkah, but instead of going down that path let's get on with this week's EATING AUTHORS guest.
Every once in a while an author of my acquaintance reaches out to me and says something like "hey, there's this new writer who's really awesome and I think you should have them over to your blog and ask them about their most memorable meal." This doesn't happen often, but when it does I'm usually so moved by the level of enthusiasm that I'll check out that new writer and extend an invitation. Which is how Brian Trent, comes to be here.
Brian is a blend of journalist and genre novelist, and his keen interest in science and society pervades his writing in both domains. He appears equally at home in science fiction and fantasy and brings a fresh voice to them. Sampling his work I can see why he was recommended to me and I'm very glad I listened. You should too.

LMS: Welcome, Brian. What stands out in your memory as your best meal?
BT: The best meal I've had was in a little hole-in-the-wall restaurant in Rome. The city–and indeed the country itself–had already been surprising me with its constant generosity and commitment to delivering memorable culinary experiences. That might sound obvious: it's Italy, right, so of course the food would be great! Yet my dining experiences in the country had included places I wouldn't have thought to have dining experiences, like a wine shop in Assisi, where the proprietors plied me with remarkable cheeses, delicious pastries, rich olive oil, and local black truffles over crispy bread while I sampled their Chianti. I have yet to be fed at any liquor store in America.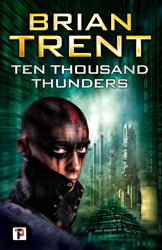 In Rome, I was already on a natural high from seeing the millennia-old ruins. My explorations of the city had been so relentless, in fact, that I had forgotten to eat that day, and was suddenly exhausted, hungry, ravenous. Having freshened up at my hotel and realizing how late the hour was, I sprinted off to see what was available in walking distance of the hotel. There was, alas, little to find. Apparently, my little rented corner of the Eternal City was situated in some Twilight Zone borderland where restaurants were somehow rare.
I did end up discovering a small, unassuming place. Upon entering, the proprietor greeted me, and I quickly exhausted my paltry knowledge of Italian in those opening seconds. Studying the menu, I decided on a seafood appetizer (as in, a single appetizer) and a pasta-with-mushroom main dish. Trying to place my order, however, yielded a great deal of confusion with the waiter. I pointed to the item I wanted. He nodded uncertainly, and left.
When he returned, he was accompanied by a phalanx of other waiters bearing what must have been a decent sample of the existing life in the Atlantic. I blinked, bewildered as the table vanished beneath all the plates. What was going on here? Was I being swindled? Had my wonky knowledge of the local language unintentionally invoked Neptune Himself, resulting in this startling bounty of the sea in gratitude for summoning Him? Before I could protest, the waiters were gone. My stomach, already hijacking my higher functions, demanded I eat what was before me. When in Rome, right?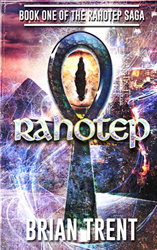 Any residual protest I may have felt suddenly dissolved as I indulged in one fresh-from-the-sea dish after another. There was shrimp, there were clams, there was fish, there were mussels. I felt like Commander Riker from that Star Trek episode, when he decides to prepare for his Klingon exchange program by sampling the entirety of Klingon gastronomy. The preparation was simple yet masterful, flavorful and pure.
After a time, the proprietor came by to see if I was pleased. I scraped the bottom of my Italian vocabulary to try expressing that yes, I was more than pleased. He asked if I was ready to order my main dish. I explained that I wanted the pasta with mushrooms. Immediately, he shook his head. "No, no, no," he said, disapprovingly. I stared at him, brandished the menu, and pointed directly to what I wanted. Again, he shook his head, waving his hand as if wiping away my suggestion from the air itself.
"Si," I insisted, trying to reconcile what was happening. It was like arguing with a pharmacist over medicinal properties, or challenging a wizard over spell components.
"No," he countered, and pointed out three alternate menu items that apparently would please the cosmos considering what I'd already had as a starter.
"Um, okay," I said at last, selecting the scampi from his approved list. I liked scampi. Why not have it in Rome? After stressing that I only wanted the scampi (and not a cornucopia of every entrée available), I let him scurry off.
Was the meal that arrived actually scampi? The question deserves better than a binary "Yes" or "No" response. The scampi I had at that Italian restaurant was not mere scampi. One bite in, the scintillating flavors spreading like a prismatic supernova across my tongue, I realized that I had apparently never had scampi before. The thing that passed for scampi in American restaurants were anemic shadows on the wall of this ur-and-ultimate scampi. Each bite was a deeper revelation, a repositioning of myself and what I thought I knew. To paraphrase Mouse in The Matrix: "Maybe the machines didn't know what scampi tasted like…" and here I was, unplugged from the illusion, eating the best meal I'd ever encountered in the real world.
Lesson learned: Don't argue with Italian kitchen wizards, and be nice to Neptune.

Thanks, Brian. Imagining the shadows of Platonic scampi on the cave wall of Neputune's bistro now replaces the scene of the Avengers having shawarma in my mind.
Next Monday: Another author and another meal!
Want to never miss an installment of EATING AUTHORS?
Click this link and sign up for a weekly email to bring you here as soon as they post.
Tags: Eating Authors