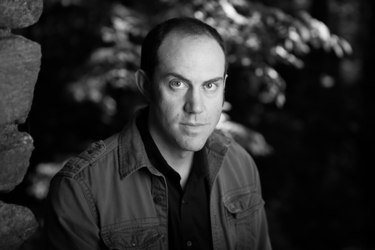 If all has gone according to plan, it's the Monday after Sasquan and you are reading this blog post while I am waking up in my hotel room in Spokane. I'll be lingering here for a couple more days, recovering from the joy and madness that was the 2015 World Science Fiction Convention. I wish I could regale you with glowing accounts of all that happened there, but as I write this none of it has taken place yet. I'm banking this post a week in advance because hey, I'm at the Worldcon, when would I find the time to write it?
And while at the time of this writing I cannot tell you who won the Hugo, since this month is all about awards, I'm happy to use that as a shameless segue to introduce this week's guest, Brian Staveley, who just a couple weeks ago won the David Gemmell Morningstar Award for Best Debut Novel for The Emperor's Blades, the first volume in his Chronicle of the Unhewn Throne trilogy. Book two, The Providence of Fire, comes out mid-January, followed by the concluding novel, The Last Mortal Bond, two months later.
In addition to writing epic fantasy, Brian wears a few other hats, hats to give one pause. Depending on how you choose to parse it, he's a poet who edits (in his case, for Antilever Press), or an editor who writes poetry. But don't take my word for it, you'll see the combination of both in the crisp sparseness of the following report of his most memorable meal.

LMS: Welcome, Brian. In the aftermath of the Worldcon, I have just one question: What's your most memorable meal?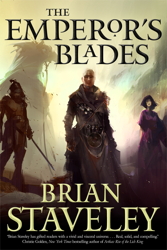 BS: My best meal was a smoothie from Jamba Juice in Salt Lake City, Utah. A friend and I had decided to climb a long granite route (the name of which I have scoured from my memory) somewhere in Little Cottonwood Canyon. It was supposed to be easy, and so I mixed up a single nalgene bottle of lemonade and we started out. The first pitch was easy. Then we got off-route somehow. A climb we'd expected to take a couple of hours in the relative cool of the morning turned into an all-day grudge-match in the 100 degree Utah summer heat. The rock was a furnace, we were wickedly dehydrated, and, as it turned out, I'd mixed the lemonade all wrong, including about 10 times the necessary powder to water, turning it into a sour, almost undrinkable stew. When we finally hauled ourselves off that miserable hunk of rock, we hit the first place available — a Jamba Juice. No fine filet, no artisinal cheese, no exotic barolo has ever tasted as good as that cold, huge peach and mango smoothie.

Thanks, Brian. Never has anyone spoken of fruit smoothies with such epic passion. But before you go, quick question for the editor in you: what's the difference between a peach and mango smoothie and a mango and peach smoothie? Seriously, it has to mean something, right?
Next Monday: Another author and another meal!
Tags: Eating Authors