As befits the first EATING AUTHORS post in this shortest month, this week's guest Brett Savory's recollection of his most memorable meal is terse and to the point. Which also makes sense when you consider that he's best known as a short story writer and for his editorial work at ChiZine Publications. He's won the British Fantasy Award, the World Fantasy Award, and the Bram Stoker Award. Like so many of Canada's best authors, he lives in Toronto. Seriously, I think there's something in the water there.
Brett's next book, A Perfect Machine, comes out from Angry Robot tomorrow.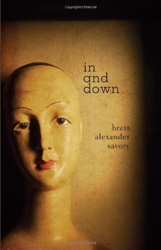 LMS: Welcome, Brett, glad to have you here. So, what's the best meal you can remember?
BS: The best meal I remember having was with my best friend, Bob Boyczuk, at a restaurant in Chicago (at the top of which, they shot some of Nolan's Batman, apparently!). I can't recall the name of the place, which I know is unhelpful, but there you go.
Anyway, it was called 'The Mac Piggy,' and had four different kinds of pig in it (maybe sausage, bacon, ham, and… something else, I forget), plus a few different cheeses. Bob and I have never had a better macaroni and cheese dish anywhere else, and I don't think any other meal has stuck in our minds like this one did.

Thanks, Brett, though I have to say, I'm going to lose some sleep pondering the possibilities of that "something else."
Next Monday: Another author and another meal!
photo credit: © 2013 www.robolsenphotography.ca
#SFWApro
Tags: Eating Authors