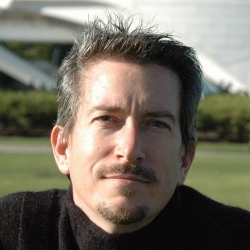 Welcome once again to Eating Authors, the weekly blog feature that asks writers to reflect on their most memorable meals. Joining us today is another past winner of the Writers of the Future competition, Bradley P. Beaulieu. Brad's one of those writers who has honed his craft not just from reading the works of others, but by actively studying with them. In addition to the celebrated Writers of the Future workshop, he's also a graduate of such critical venues as Viable Paradise, Orson Scott Card's Literary Bootcamp, and Clarion.
It took him a few years to digest all of that insight, but the results can be seen in The Winds of Khalakovo and The Straits of Galahesh, the first two books of a promised trilogy being published by Night Shade Books, The Lays of Anuskaya.

LMS: Brad, thanks for being on the blog. So tell me, what's the most memorable meal you can think of?
BPB: I have to say, I love talking food. I'm a bit of a cook. Nothing more than self-trained, mind you, but I like to think that I've got game in the kitch. I've also been lucky—in the foodie sense of the word—to have been a traveling consultant for quite a few years now. When your meals are being paid by someone else, it's awfully easy to start looking for the most expensive stuff on the menu. It allowed me to sample stuff I would never have tried otherwise. Needless to say, I've been to quite a few not just good, but really good restaurants. A few that come to mind are Sanford's in Milwaukee, Too Chez in Novi, MI (now closed),
A Different Pointe of View in Phoenix, South Street in Dublin, Ireland, Wild Ginger in Bellevue, WA, Luzzo's in New York, Topolobampo in Chicago, and more recently, Nob Hill Tavern and Raku, both in Las Vegas. Oh, and for the best fish tacos anywhere: Baja Fish Tacos in Mission Viejo, CA.
I've had more than my fair share of nice meals at good restaurants, but if I had to pick one, it would have to be one that I made, not because they're better than those fancy restaurants, but because I had a hand in them. I find cooking therapeutic, and I love it for its connection to history. When I make bread or soup, I can imagine someone doing the same hundreds, even thousands of years ago. The smell of the spices would be the same now as they were then. The taste of the meat, the texture of the vegetables. Sure, the array of ingredients available to the ancient cook would have been very limited, yet still, it feels like they've handed things down, generation to generation, to us, the cooks of today.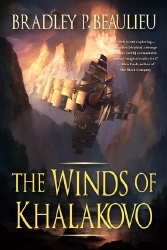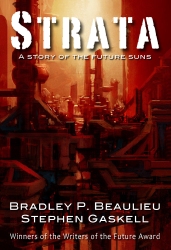 So for the best meal I've ever had, I'm going to pick a soup. This was the best soup I've ever made (or consumed, for that matter), and it was one of Rick Bayless's recipes. It's called Sopa Azteca. Basically, it's tortilla soup with wonderful, authentic central Mexican taste. The depth of flavor in this soup is amazing. And if you like it with chicken, you can get one of those rotisserie chickens that are available in most grocery stores, chop up the breast meat and drop it in at the end. It's really amazing stuff. As for where, it would be right here in my home in Racine, WI. And why? It would be because of that connection I mentioned, because I got to make it myself, and because my wife and I shared it together.

Mmm, you had me as soon as you mentioned Rick Bayless. Absolute yum!
Next Monday: Another author and another meal!
Tags: Eating Authors