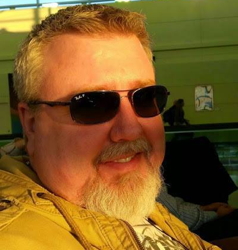 I'm writing this before the Nebula Awards take place, so I don't know if I've won for Best Novel or watched one of my incredible co-nominees take home the prize. What I do know is that I'll be on a plane flying home from Chicago the morning this posts. But just because I'm going to be recovering from what will (win or lose) be a gloriously exhausting trip is not sufficient reason to deprive you of an EATING AUTHORS post. Especially when I have Bishop O'Connell standing by as this week's guest.
Bishop is the author of the American Faerie Tale series, with three volumes published thus far and a fourth book (The Returned) coming out in just a couple months (July 12th, to be precise). He resides in Richmond, Virginia.
I'd tell you more about his background and history, but he's gone on record as making some or all of it up, and it's a slippery slope to be sure. And attempting to Google him is also somewhat fraught, unless… made he really is a high school in Arlington. Hmmm, it would explain some things…

LMS: Welcome, Bishop. What would you say is your most memorable meal?
BO: It's not easy to pin down my most memorable meal. I travel a lot for my day job so I get to sample excellent food all over the country. I've also shared good and bad food with great friends, which can makes a great meal of even bad food. But I think I have to pick one that is mostly about the food. North of Portland, Maine is a small town called Wiscasset. If you ever find yourself driving through the town, and it's not winter, you'll likely pass a small shack near the river, and it will undoubtedly have a line of people that stretches down the block or beyond. It's called Red's Eats and has the most amazing lobster rolls on the planet. Now, I love me some sandwiches, but this is the grand emperor, exalted and chosen by God, of the sandwich universe. Long may it rule. New Englanders know seafood, and take a special pride in lobster, but these rolls are lobster perfection. You might think you've had a lobster roll before, but you really haven't. There's a reason people wait in line an hour or more in the hot sun. I personally have never waited less than 45 minutes but it's always worth it.
It isn't just about the food though, just mostly. You see, first, there are the stories with the people around you. At least if you're an extrovert like me. There are the new people who drove there after hearing about Red's (it's been on TV specials, in magazines, and more). They are usually skeptical, but there is always a smile and knowing nods from those of us who know it's well worth the wait. There is also the building excitement as you get ever nearer to the little window and you can almost taste that first bite. New people start scoping out seats, it's all outdoor seating because, well, shack. But those of us who've been there before know there is a magic to Red's and you never have to wait long, if at all, for a seat. I've heard they have other items on the menu, and they're probably delicious, but really why bother. Unless we're talking about the onion rings, which are also fantastic, but that's something you order with the lobster roll.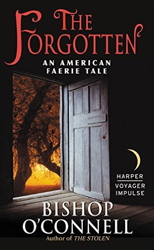 Alright, I've made you wait long enough. Here's the simple, sublime magic of a Red's lobster roll. First, as required it is a generously buttered New England style roll—kind of like a hot dog bun but slit at the top—and toasted to perfection on the flat top. Then it's just lobster. Yep, just lobster. An ENTIRE lobster! On each roll! Actually, more than entire lobster on each roll. That's right, a delicious mountain of fresh, sweet Maine lobster on a buttered and toasted roll. Yes, Maine lobster! Take away your sad, little, clawless, warm water, or rock lobsters! The only good Rock Lobster is the B52's song. Okay, now usually when you get a lobster roll — even in New England — the lobster is cut into pieces and tossed in mayo with some celery then served with lettuce in the roll. Not Red's. It's just perfectly cooked, fresh caught lobster. When you get your roll, you can see the claws atop the pile of meat, and you'll find at least two tail halves underneath. You'll get your choice of mayo or drawn butter on the side; always choose both. The mayo is for the sandwich, the butter is for the half a pound of lobster meat you'll have to remove just to get the roll into your mouth. Eat the roll with a little mayo, then dunk the loose lobster meat (I save the tails and claws for this) into the melted butter and drift into food Nirvana.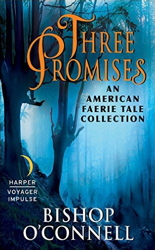 It's an hour and a half drive from New Hampshire when the traffic is good — at the height of summer it can take closer to three — but it is so worth it. A trip to Red's is an event, a beautiful drive, people watching and chatting as you wait in line, and then the payoff when you get that first bite. Yes, there is sadness when you eat the last. But at Red's, they know that's coming. Order an extra roll or two to go. They'll pack them on ice and do it in such a way that it's still awesome a couple hours later, or more. No, it's not as good, but it's still an eleven on a scale of one to ten (eaten there it's a fifteen by the way).
Not too bad considering that at one point inmates actually rioted because they were tired of being served lobster, which was of course what poor people ate back them. I think they really rioted because there was no toasted roll, and even worse, no drawn butter.

Thanks, Bishop. I've never been to Maine, and clearly it's time for a pilgrimage. My wife kills for even mediocre lobster rolls, so it may end up being a one-way trip.
Next Monday: Another author and another meal!
Tags: Eating Authors