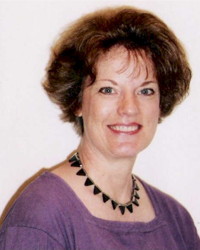 If you've been reading EATING AUTHORS for a while, you've probably noticed several themes. Many writers' most memorable meals involve excursions to remarkable restaurants in the company of fellow authors, particularly while attending conventions. Others describe incidents of serendipity, some literally stumbling upon an unsought, hole-in-the-wall kind of place and being transported by the miraculous food within. And there there are the folks who eat snails for the first time, and find it memorable either because of trauma or transcendence. Our guest this week is Barbara Ashford, and as you'll learn she falls into this last group. But before she tells you about her meal, let me tell you a bit more about her.
For one things, she's two people. In addition to her current Maggie Graham series of books (Spellcast and Spellcrossed, so far), she also wrote the Trickster's Game trilogy under the name Barbara Campbell, and was a finalist for the Mythopoeic Fantasy Award for Adult Literature. Her short fiction can also be found in various anthologies, including After Hours: Tales from the Ur-Bar and The Modern Fae's Guide to Surviving Humanity, both edited by Joshua Palmatier and Patricia Bray.

LMS: Welcome, Barbara. What stands out as your most memorable meal?
BA: I have to go back many years to a trip I took to France with my parents. We stayed at the Chateau de Pray, a 13th century chateau straight out of a fairy tale.
That's my room – on the top floor of the turret on the left. It had an enormous canopy bed and casement windows and a view of the Loire Valley. I was in heaven, a tenth grade Rapunzel sans the long hair.
Expecting an echoing great hall out of an MGM movie set, the restaurant at the Chateau was surprisingly intimate. Long burgundy-colored draperies at the floor-to-ceiling windows. Brass chandeliers hanging from the wood-beamed ceiling. A dozen or so tables, white tablecloths gleaming in the dimly-lit room. A stone fireplace large enough to roast a stag (or an unruly peasant).
Let's face it. In that setting, they could have served me meatloaf and I would have been charmed.
My parents urged me to try something safe as an appetizer. I chose escargots. (Having just survived my first encounter with a bidet – mine had a geyser to rival Old Faithful – I was feeling adventurous.)
I knew I'd made the right choice when the waiter presented me with special utensils. A pair of tiny tongs. A teensy fork. A veteran of many school plays, I couldn't think of anything cooler than a dinner with props.
And it got better. My escargot arrived on a little silver tray with a bronze shell nestled in each of the six "dimples."
Until that moment, the most "exotic" cuisine I'd ever tasted was when my mother heated up a can of La Choy vegetables and dumped them over Minute Rice. For the first time in my life, I discovered that eating could be a sensual experience. The wisps of steam rising from the serving tray. The scratch of metal tongs on shell. The upwelling of melted butter when the snail was pierced. The plump firmness of its flesh exploding in my mouth. And the lingering flavors… sweet butter, roasted garlic, earthy snail, tangy parsley, the faintest hints of white wine and lemon juice…
Who could have imagined a gastropod could be erotic?
Alas, I don't remember much about the rest of that meal. I had duck – another first – and some kind of soufflé for dessert, but nothing could break the spell of escargot.
For the three days and nights of our stay, I was transported to another world that was as far from my suburban life as I could imagine and the closest I've ever come to feeling like a fairy tale princess. The perfect combination of setting and cuisine that has never been rivaled. Maybe that's why I ended up writing fantasy. Maybe it all started with an escargot and an enchanted tower. I'll never know for sure, but thank you, Lawrence, for making me wonder.

No, thank you, Barbara. Not only for sharing your meal, but for making escargot sound erotic. Mind you, I'm still not eating snails, but you almost won me over.
Next Monday: Another author and another meal!
#SFWApro
Tags: Eating Authors