Hanukkah is one the wane and many folks are getting fat and/or drunk at the office holiday party (more of the former and none of the latter in my case, as my DayJobâ"¢ is in the mental health and addictions domain, so parties are typically dry), to say nothing of sending and receiving delicious gifts and treats, or gearing up for that big holiday meal at home. Some of us are busy with last minute shopping, and others are gleefully finding mysterious packages arriving by post or other carrier.
Meanwhile, amidst the other bits of frenzy that is typically associated with December, it's the start of another week and on this particular Monday I'm pleased to tell you that Amanda Downum has dropped by to share a tale of a memorable meal. She's a fantasy author perhaps best known for her Necromancer Chronicles (The Drowning City, The Bone Palace, and Kingdoms of Dust).
Amanda's been shortlisted for the David Gemmell Morning Star Award, and the James Tiptree, Jr. Award, and nominated for the David Gemmell Legend Award and the Gaylactic Spectrum Award. Her newest book, Dreams of Shreds and Tatters, will be out from Solaris next May.

LMS: Welcome, Amanda. So can you tell me about your most memorable meal?
AD: I've been lucky enough to travel frequently, and have had wonderful food and experiences in several countries — Indonesia and Micronesia as a child, and more recently Canada, Germany, Ireland, and Sweden. I've also eaten my way across wide swaths of Boston, New York, New Orleans, and much of Texas. I'm always excited to try new things, and have always been happy to let other people cook for me.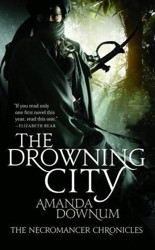 At the end of 2013 I found myself living alone for the first time in over a decade. While I've known how to cook most of my adult life, I now had the impetus to learn to cook well, and to try dishes that would once have intimidated me — things like khoresh bademjan and anticuchos de corazon.
This summer, for my 35th birthday, I decided to throw a dinner party. Not only was it a chance to cook for my partner and a few good friends, but it was also the opportunity for an aesthetic indulgence I'd been looking forward to for a while: goth dinner.
Mole (mole poblano) is one of my favorite Mexican dishes. In various parts of Texas I've found incarnations ranging from bitter black death to something suspiciously close to chocolate syrup. I'd wanted to make my own for years, but had always balked at the work involved. The process is arduous, but the evolution of the flavor throughout the various steps is fascinating. My first attempt erred slightly on the chocolatey side, but was bitter and spicy and delicious. Instead of chicken, I served it with broiled beef heart. Not quite as black and bitter as a goth's heart could be, but the combination of chocolate and chile and metallic meat was lovely. (I owe a special thanks to Frank at Whole Foods, who offered chile suggestions and moral support, and not too much dismay at the idea of mole on beef. If you read this Frank, I may never rival your mother's mole, but dinner was a success.)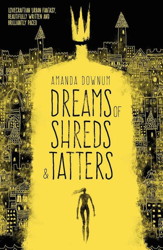 For a simpler but striking dish, I also made squid ink pasta with beet pesto, a beautiful combination of black and fuchsia, topped with chevre and slivered black garlic.
Dessert was a dark chocolate spice cake veined with pomegranate reduction. Served with absinthe, of course.
It was a wonderful evening with friends and food, enhanced by the knowledge that I can feed those I love, and not set the kitchen on fire.

Thanks, Amanda. Not setting the kitchen afire is always a good goal, one that is trumped only by the pursuit of a fine mole.
Next Monday: Another author and another meal!
Tags: Eating Authors