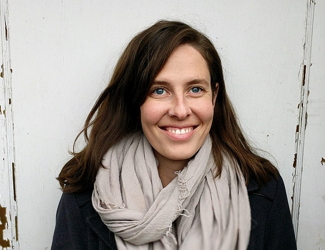 I reached out to this Alix E. Harrow back in April when I saw the news that her first novel would be coming out in September, because there are few things I like more for this blog than to use it to boost the signal of debut novelists. She expressed pleasure at the invitation, and then it was just a matter of getting on her calendar because requests for blog posts have a habit of falling off most authors' To Do lists. In mid-August I sent her a reminder. A couple days later, she won the Hugo Award for her short story "A Witch's Guide to Escape: A Practical Compendium of Portal Fantasies," from Apex Magazine. There's a very nice interview with her in the same issue with talk of libraries that I suspect most readers of this blog will relate to.
Alix's resume reads like an actor's, which is to say it shows a wide range of experiences and thus endless fodder for a writer's imagination. Past jobs included being a farm-worker, a cashier, an ice-cream-scooper, and a 9-to-5 office-dweller. She's lived in tents, cars, cramped city apartments, lonely cabins, and for one summer in in a really sweet '79 VW Vanagon.
Her debut novel is a book within a book. The Ten Thousand Doors of January comes out tomorrow.

LMS: Welcome, Alix. Congratulations on your recent Hugo! Now, please tell me about your most memorable meal.
AEH: I never ate my most memorable meal, but I remember it clearly: candied chestnuts in the deep woods of Mossflower. I remember other foods in the Redwall books—the cordials and creams, the cheeses and tarts—but mostly I remember the chestnuts, because I'd never tasted them. They became a kind of mythical, unattainable sweet, a dream dessert better than any real-life Smarties or Twix bar (later, I would feel the same way about Edmund's Turkish Delight).
This is a recurring problem for me: fiction infiltrates my reality so thoroughly my own memories are compromised. I remember emotions that were never mine and homes I never lived in; I have intense nostalgia for magic that never was. When asked what my most memorable meal was, I thought first of something I'd never eaten.
I want you to know that I tried to think of real meals instead. I tried to write this blog post about the last meal I ate before morning sickness cut in, and how I still can't stand the smell of pomegranate chicken or baklava. Or maybe the red ICEE I shared with my Dad at my grandmother's funeral and the murderous brain freezes that left us laughing and crying on the floor of a gas station in our fancy black clothes. Or the first dinner I tried to cook myself in college, when I didn't have milk for the potato soup and figured vanilla soymilk would be a fine substitute (it was not).
But then I figured—surely fictional food matters, too. Those real meals fed my body (well, not the pomegranate chicken, which I barfed up, or the potato soup, which I mercy-composted), but what about the meals that fed my heart?
What about pumpkin juice and butterbeer and lembas bread? The jelly-like goo they ate on Xena: Warrior Princess to become gods and the spicy hot cocoa from Chocolat and even the oatmeal and blue cheese dressing from Cordelia's Honor? Or even the deeper, older things we eat in stories and myths—the six pomegranate pips and the gingerbread houses and cursed fairy foods?
Catherynne Valente's short story collection is called The Bread We Eat in Dreams, which is a line from her 2011 story in Apex:
"And in her long nights, in her long house of smoke and miller's stones, she baked the bread we eat in dreams, strangest loaves, her pies full of anguish and days long dead, her fairy-haunted gingerbread, her cakes wet with tears."
In the end, those are the meals I remember best: the strangest loaves, fairy-haunted, wet with tears.

Thanks, Alix. Speaking as an author who frequently events alien meals for my fiction, I'm hard pressed to imagine a greater tribute than for a reader to remember fictional food with such fond intensity.
Next Monday: Another author and another meal!
Want to never miss an installment of EATING AUTHORS?
Click this link and sign up for a weekly email to bring you here as soon as they post.
Tags: Eating Authors