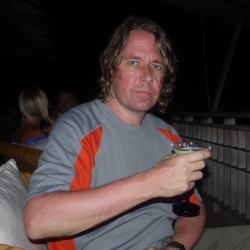 Another Monday has had the temerity to show its face and while we might like very much to complain about it, we must nonetheless accept and embrace it, else we'll never manage to come around to Friday again. One thing that make Mondays a bit more bearable is a visit from a talented writer who will entertain us with a tale of a particularly memorable meal
For this Monday we turn to Alastair Reynolds, easily one of Britain's best hard SF authors. He comes by this distinction honestly, not merely because of his doctorate in astronomy, but also having worked as an astrophysicist at the European Space Research and Technology Center. I confess, I'm particularly enamored of his series of novels and short stories that begins with Revelation Space, which is probably the best example of space opera without resorting to the magic of FTL drives, wormholes, and other technologies built on hand-wavium (you know, the stuff that I do). If that's not enough to convince you that you should be reading his fiction, then be aware that he's also written a Dr. Who novel; it's scheduled for release next year in celebration of the fiftieth anniversary of the series. Now that's versatility!
Time now for a minor confession: I had the pleasure of being on a panel with Al a few years ago when he was the Guest of Honor at Boskone, and I played a small prank on him that involved a mock-up of a book cover and the insinuation that he needed to heed my advice if he had any hope to be a success in the field. Mind you, this is the man who in 2009 signed a ten year, ten book deal worth worth £1 million. So, not only is he a fine writer, but he knows how to take a joke.

LMS: Welcome, Al. Thanks for being here. So what's it going to be? What meal lingers in your memory?
AR: I've had many memorable meals, but one in particular stands out. The first thing to say is that I'm no kind of culinary expert. I know what I like, but my tastes are unrefined and the experience of a good meal is for me at least as much about the company and the surroundings as anything else. As often as not I remember the view and the atmosphere more readily than I remember what I had from the menu, or whether I had wine or beer or water with my food. A good meal can happen in the most unpretentious of surroundings – I remember, for instance, an occasion on which my wife and I walked out of the up-market Chinese restaurant where we'd made a reservation (the service was lousy enough that we made this decision before we'd even ordered anything) and instead ended up in a far more modest Chinese over the road, where the service was friendly and the food excellent.
As should be evident from the above, I like Chinese food, but that's true of Asian cuisine generally. I've always enjoyed Indian and Chinese cooking, but after a trip to Bangkok I developed an enthusiasm for Thai and Vietnamese, and more recently Malaysian dining. In fact my wife and I spent our honeymoon in Malaysia, and the evening meals were a constant treat. In 2010, on our way back from the World Science Fiction Convention in Melbourne, Australia, we decided to return to our honeymoon hotel for a short stay. We were delighted to find that nothing much had changed since our last visit, and of course the food was something we were looking forward to with great enthusiasm. We would typically have a light breakfast, then spend the rest of the day on the beach, reading and swimming, but not eating anything until the evening. I would normally squeeze in a run in the hotel gym before sundown, meaning that we were properly hungry by the time our dinner appointment came round.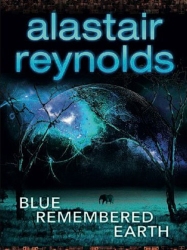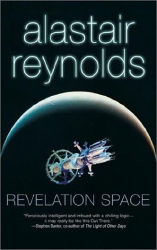 There were a number of restaurants attached to the hotel, all excellent, all specialising in subtly different varieties of Asian cuisine. One evening we opted to take the set menu, which involved an unfeasible number of very small courses, punctuated by glasses of wine chosen by the chef to complement each serving. I am not normally one for multiple course meals, usually feeling stuffed half way through the menu, but this was excellently arranged and each serving only had me anticipating the next. I wish I could go into specifics, but all I can say is that the cuisine was Malaysian and the selection covered a variety of fish and meat dishes, with accompanying sauces and so on. It was exquisite, and I particularly enjoyed not having to make my own wine choices, trusting instead the good judgement of the chef. Indeed, I don't think I'd ever had a rose wine before that night but the glass that accompanied one of the servings was so delicious I immediately started drinking rose at every opportunity. (My wife, who is not a wine drinker, chose a different order but also enjoyed a fabulous meal). The highlight, oddly enough, was the dessert – ice cream made from pandanus leaves. I had never tasted the pandanus leaf before but it was like discovering a new colour – a completely novel and utterly bewitching flavour, like nothing I'd experienced before. Needless to say we now seek out anything made from pandanus leaves. There's a fabulous Thai restaurant in Manchester where they served pandanus pancakes.
The menu, of course, was only a part of the experience. We were dining on a warm evening, in a sublimely lovely part of the world, happy to be reflecting back on our honeymoon and looking forward to the days ahead of us before we had to depart. Under the circumstances, I would have been happy with a plate of fish and chips, but the combination of marvellous setting, the company of my wife, and a fabulous selection of dishes and wines, was difficult to beat.

Thanks, Al. I have a niece who's Malaysian. I've stayed in her home several times now, and not once has she offered me pandanus pancakes. I'll be having words with her about this, I can assure you.
Next Monday: Another author and another meal!
Photography by Josette Sanchez-Reynolds
Tags: Eating Authors