I am a huge fan of Subterranean Press. They put out books by some of the most amazing writers in the field, and do so in stunning editions.
In the last few years, I've cut way back on the number of paper books I buy. Almost all of my reading is of the epub variety, either on my phone or on a seven-inch tablet. But, there are a couple dozen authors that I still buy regularly in paper, writers who are friends, writers who are mentors, writers who inspire, writers I want to collect on my shelves. And several times a year, I'll see just such an author's name pop up from Subterranean Press in an email, and I'll go ahead and pre-order a book. Often as not, it will be a signed, numbered edition. Yeah, that costs a bit more, but since I'm buying fewer paper books, it all washes out. Plus, it's about the only thing I buy for myself.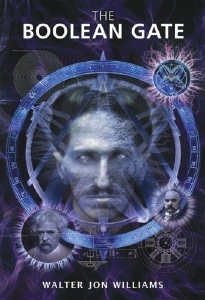 Anyway, the point of this post is that I'd ordered and paid for just such a book months and months ago, and then long since forgot the book even existed or was coming out.
It arrived with yesterday's mail.
I gave the book to my wife, so she could give it to me as a Hannukah gift last night. I've talked about this before, what a pain-in-the-ass I am to get gifts for, because there's nothing really that I want or need, and how I tend to end up disappointed when someone is really just trying to be nice and give me something. Yeah, I suck). The point is, it makes giving me gifts pretty tough. But here was this great book I wasn't expecting (honestly, I don't recall ordering it) and it's just what I wanted. The perfect gift. My wife graciously accepted the opportunity to give me the book. A win all around!
The book is Walter Jon Williams's The Boolean Gate. My copy is #46 of the special, signed edition, limited to 500 copies. Whenever I order a numbered book from Subterranean I always ask for #46 and Bill goes out of his way to accomodate me (Thanks, Bill!). If you want to know why #46, well, ask me in person sometime.
And too, as regular readers of my blog know, not only am I a huge fan of Walter's work, but I've had the great pleasure of going up the mountain in Taos to learn from the man at his master class, Taos Toolbox (and it's also my great pleasure to plug that experience whenever I can). The book's concept is brilliant, pairing of the characters of Samuel Clemens and Nicola Tesla, two dynamic and brilliant contemporaries. Combined with Walter's legendary ability with plot, I have no doubt this is going to be an awesomely fun read.
Happy Hannukah indeed!
Tags: Books